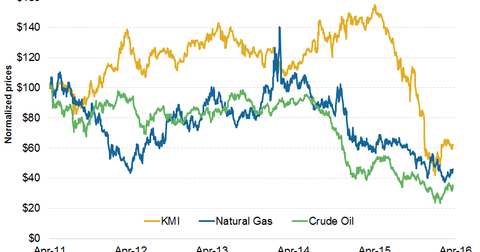 Kinder Morgan's Commodity Price Exposure after 1Q16
By Kurt Gallon

Updated
Kinder Morgan's direct commodity exposure
Kinder Morgan (KMI) is directly exposed to crude oil and natural gas prices through its CO2-based crude oil production and natural gas midstream businesses. KMI "estimates that every $1 per barrel change in the average West Texas Intermediate ([or] WTI) crude oil price from the company's budget of $38 per barrel would impact its budgeted distributable cash flow by approximately $6.5 million." It added that "each $0.10 per MMBtu change in the price of natural gas from the company's budget of $2.50 per MMBtu would impact its budgeted distributable cash flow by approximately $0.6 million."
The EIA (U.S. Energy Information Administration) expects WTI crude oil and natural gas prices to be $34.60 per barrel and $2.18 MMBtu (million British Thermal Units) in 2016. If we go by EIA's estimates, KMI might expect a further decline in DCF (distributable cash flow) compared to its guidance.
Summit Midstream Partners (SMLP), DCP Midstream Partners (DPM), and Enable Midstream Partners (ENBL) are some midstream companies that have exposure to natural gas prices through their natural gas midstream assets. KMI forms 2.5% of the iShares North American Natural Resources ETF (IGE).
Article continues below advertisement
Kinder Morgan's indirect commodity exposure
Midstream companies are indirectly exposed to commodity prices through production levels. If crude oil and natural gas prices continue to stay low, upstream producers might cut their production or even go bankrupt. This might result in lower throughput volumes, lower earnings, contract renegotiations, and higher counterparty risk. We looked at the impact of a decline in Eagle Ford production on KMI's guidance in the previous article.
Lower natural gas prices also indirectly affect KMI's coal business due to a reduction in coal demand from power utilities resulting in the bankruptcy of coal producers.
On counterparty risk, Steven Kean, KMI's CEO (chief executive officer) said, "Our top 25 customers constitute 44% of our revenue and of that revenue 85% is investment-grade. Of our total revenue about 75% is investment-grade or has substantial credit support and 86% is rated B or better."