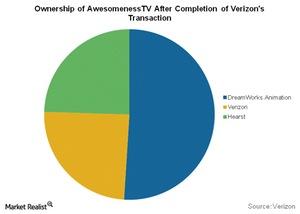 Inside Verizon's Transaction for a Stake in AwesomenessTV
By Ray Sheffer

Updated
Verizon's transaction for AwesomenessTV
Verizon Communications (VZ) continues to increase exposure to the media space. According to the telecom company's press release, Verizon has "announced it has entered into an agreement to purchase an approximate 24.5% stake in AwesomenessTV."
After the transaction, the valuation of AwesomenessTV would be around $0.65 billion. It's worth noting that Verizon had a market capitalization of ~$212.9 billion as of April 8, 2016.
According to Verizon, after the completion of the deal, DreamWorks Animation (DWA) and Hearst would have stakes of 51% and 24.5%, respectively, in AwesomenessTV.
Article continues below advertisement
New service by AwesomenessTV
According to the telecom company's press release, Verizon "will enter into an agreement with AwesomenessTV to create a first-of-its-kind premium short-form mobile video service." The release also said that "the new service will launch as part of the go90 offering, and Verizon will fund the initiative through a multi-year agreement with AwesomenessTV." We should note here that according to Verizon, in the US, this service will only be for the company's platforms during the initial period.
The deal with AwesomenessTV is expected to add more weight to Verizon's go90 service. Verizon's go90 is a mobile OTT (over-the-top) service. Verizon had earlier acquisitions of upLynk, a multi-device video encoding service, EdgeCast, a CDN (content delivery network), and OnCue, an internet TV service of Intel (INTC). AOL helped in the development of the go90 service, according to Verizon.
For a diversified exposure to select telecom companies in the US, you may consider investing in the SPDR S&P 500 ETF (SPY). The ETF held a total of ~2.8% in AT&T (T), Verizon (VZ), CenturyLink (CTL), Frontier Communications (FTR), and Level 3 Communications (LVLT) at the end of March 2016.
In the next part, we'll go deeper into the mobile video space.