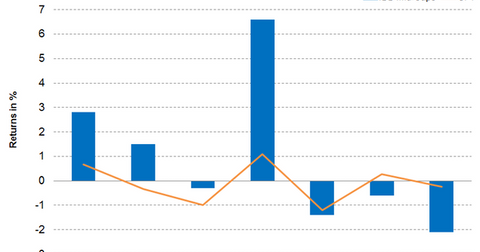 IBB Mid-Caps: Medicines Company's Carbavance, Fast-Track Status
By Peter Neil

Dec. 4 2020, Updated 10:52 a.m. ET
IBB mid-caps
The mid-cap stocks of the iShares Nasdaq Biotechnology ETF (IBB) fell 2.1% and underperformed the SPDR S&P 500 ETF (SPY), which fell 0.2%. As of April 11, 2016, IBB holds 28 mid-cap stocks in its portfolio. Among them, 23 stocks fell, and only five stocks rose. IBB's mid-cap stocks account for 20.8% of its portfolio.
The above graph reflects the daily changes of IBB mid-cap stocks compared to the SPDR S&P 500 ETF (SPY) in April to date. IBB mid-caps have outperformed SPY with a return of 6.5%.
Article continues below advertisement
Carbavance received fast-track status from the FDA
In a press release, the Medicines Company (MDCO) announced that "the U.S. Food and Drug Administration ([or] FDA) has granted Fast Track Designation to the investigational agent CARBAVANCE (meropenem-vaborbactam) for the treatment of complicated urinary tract infections ([or] cUTI). CARBAVANCE is the combination of the carbapenem antibiotic, meropenem, with the novel beta-lactamase inhibitor, vaborbactam (formerly known as RPX7009), that is being developed for the treatment of gram-negative infections, including those due to carbapenem-resistant Enterobacteriaceae (CRE)."
The Medicines Company closed at $32.30, a fall of 3.5% from its previous day's close. Year-to-date, the stock has fallen 13.5%. Year-to-date returns for peers Ligand Pharmaceuticals (LGND), Kite Pharma (KITE), and Myriad Genetics (MYGN) were 6.3%, -19.4%, and -10.5%, respectively. MDCO stock has a book value of $10.52 per share. With its current price, the stock is trading at a price-to-book value of ~3.1x. The Medicines Company has a weight of 0.4% in IBB's portfolio.