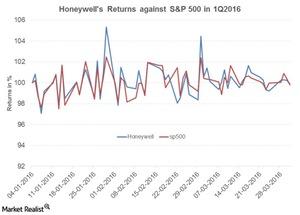 Honeywell: A Stable Stock for Defensive Investors?
By Shannon Black

Apr. 20 2016, Updated 11:04 p.m. ET
Did Honeywell stock fare better than the Market in 1Q16?
As you can see in the graph below, with negative returns of 0.1% until March 31, 2016, Honeywell (HON) stock was only marginally better than its peers and the Market. The S&P index fell 0.2% at the end of the quarter from its levels at the beginning of the year. Among Honeywell's peers in the industrial (XLI) and aerospace (PPA) markets, General Electric (GE) and United Technologies (UTX) fell 0.12% and 0.14%, respectively, by March 31 compared to the beginning of the quarter in January.
Article continues below advertisement
A 2015 recap: Honeywell's calm presence in the storm
When returns were analyzed for fiscal 2015, Honeywell's returns were better than the S&P index. The S&P index returns were in negative territory by 0.7%, and the index had a daily return volatility of 0.98%. Honeywell returned 3.3% and had a daily return volatility of 1.2% for the entire year. But Honeywell was second to its peer General Electric (GE), which had the best fiscal year in several years. The stock had a 1.4% daily return volatility and returned 24.3% in 2015.
Much of GE's returns were due to its decision to divest major portions of GE Capital, a financing and mortgaging business unrelated to the core industrial arm of the company. Due to the one-time nature of the event, GE has only one way to enhance its stock returns in 2016: increasing its earnings. United Technologies had a poor year with its stock falling 16.5% toward the end of December 2015.