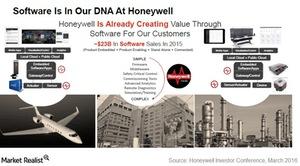 Honeywell Software: A Kingmaker across Business Units
By Shannon Black

Updated
Is the importance of software increasing within Honeywell?
A strong software focus in a company that manufactured jet engines would have been at best a good-to-have feature two decades ago. However, given the rapid penetration of tech-based solutions in industries once considered removed from technology, a focus on software is quickly becoming the new normal.
Honeywell (HON) has been quick to adopt this trend, dedicating more than half of its research staff to software-related products. The growing clout of software is perhaps best illustrated by the company's CEO, David Cote, in a 2015 interview: "When I go back 13 years ago, we had just an empty pipeline. Now every single business has great new products…and a lot of it is software based."
Article continues below advertisement
Honeywell Software: A kingmaker rather than a king
Investors are generally less idealistic and are more concerned with returns that could back these new initiatives. Honeywell dedicated an entire segment to software in this year's annual investment conference. Previously, software had been mentioned with other business segments and without sufficient detail. Of 2015's total revenues of $38.5 billion, software created value in product sales totaling $23 billion.
Software's contribution to Honeywell sales could be classified into three categories: standalone software, products enabled by software, and connectivity solutions. Honeywell made $1 billion in standalone software sales in 2015. Standalone software is not embedded in a hardware component, and it can be delivered on a CD or can be downloaded. This is a high-margin and scalable product. Products worth $21 billion were enabled by software and an additional ~$1 billion in product sales were derived from connectivity solutions.
Investors interested in trading in aerospace and defense can look into the PowerShares Aerospace & Defense ETF (PPA) and the iShares US Aerospace & Defense ETF (ITA). Major holdings in PPA include Honeywell (HON) at 6.7%, United Technologies (UTX) at 6.8%, and Lockheed Martin (LMT) at 6.7%.