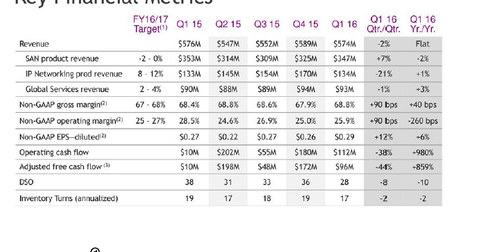 Why Expansion into Hyperscale Cloud Will Be Key Driver for Brocade
By Adam Rogers

Updated
Brocade plans to introduce layer-free platforms for service-provider market
By the end of 2016, Brocade (BRCD) is planning to introduce a family of new layer-free platforms for the service-provider and data-sell markets. Further, Brocade delivered a highly differentiating NFV (network function virtualization) offering in its software network and portfolio. The company also expanded its software footprint in hyperscale clouds with the availability of virtual ADC (application delivery controller) solutions in three of the world's largest hyperscale cloud providers.
Article continues below advertisement
Brocade partners with a number of firms to leverage services
Brocade announced new technology partnerships to accelerate the development of new IP solutions. Brocade's partnerships enable solutions to leverage SDN (software-defined networking), NFV, and mobile edge computing. This will enable mobile network operators (or MNO) to innovate faster, identify new revenue streams, and improve service agility.
"As part of the Brocade Partner Network, the open mobile partner ecosystem provides access to best-in-class networking solutions that enable choice, reduce vendor lock-in, and increase network flexibility. Not only does this help MNOs and MVNOs accelerate their rate of service innovation, it can also significantly reduce the cost of service delivery," said Kevin Shatzkamer, chief technology officer of mobile networking at Brocade. "Brocade is committed to working with partners in our open mobile networking ecosystem in order to bring new innovations that put mobile operators on the path to delivering 5G services enabled by New IP infrastructures."
Brocade stated that its solutions will be featured through a number of innovative partner collaborations including demonstrations of EMC (EMC), HP (HPE), Open Net, Metaswitch, Coriant, and others.
Last month, Ericsson (ERIC) joined China-based (FXI) China Mobile's (CHL) 5G Joint Innovation Center Program to accelerate the development of next-generation wireless networks, which are expected to be faster, more powerful, and offer greater opportunities. This agreement was announced at the Mobile World Congress (or MWC) 2016 in Barcelona.