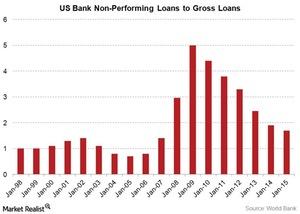 Corporate Credit: Canary or Phoenix for US Economic Growth?
By Surbhi Jain

Updated
Phoenix or canary?
It's difficult to determine whether corporate credit is the phoenix or the canary in the coal mine for growth in an economy.
Article continues below advertisement
The phoenix
To those who agree with the former, corporate credit is a good thing. The logic is that growth in corporate credit means businesses are spending more, which means that more money is circulating in the economy. Because of this, consumer spending picks up.
Whether it's through higher wages or an increased scale of production, aggregate household production rises, which leads to increased consumer spending and puts the economy's growth engine into high gear.
Just as a phoenix regenerates from its own ashes, increased corporate credit may regenerate economic growth in the United States (VFINX) (IVV) (VOO). The relationship between corporate credit and growth, however, remains complicated.
The canary in the coal mine
Deeper insight into the topic lends support to those who believe that corporate credit is the canary in the coal mine for growth. With interest rates having been very low for some time now, we've seen corporate credit surging.
A large amount of this credit has been used by corporations to fund buyback sprees in attempts to inflate their earnings. Another large portion of this credit has funded the mergers and acquisitions (MNA) rally we've seen in the past two years.
With the commodity slide, we've also seen the funding requirements of commodity sector companies rise. Corporate credit extended to sectors with high credit risk takes the form of the canary in the coal mine. It provides early signs of rising delinquencies.
The rising non-performing loans to gross loans ratios of banks (KBE) (XLF) signal the deteriorating quality of corporate credit. This kind of credit is not a growth driver. Instead, it's a roadblock to economic growth. Currently, in the United States, this ratio has fallen since the financial crisis of 2008–2009. However, it's still well above pre-crisis levels.
Let's take a look at what current credit conditions and lending practices are indicating from a cycle perspective.