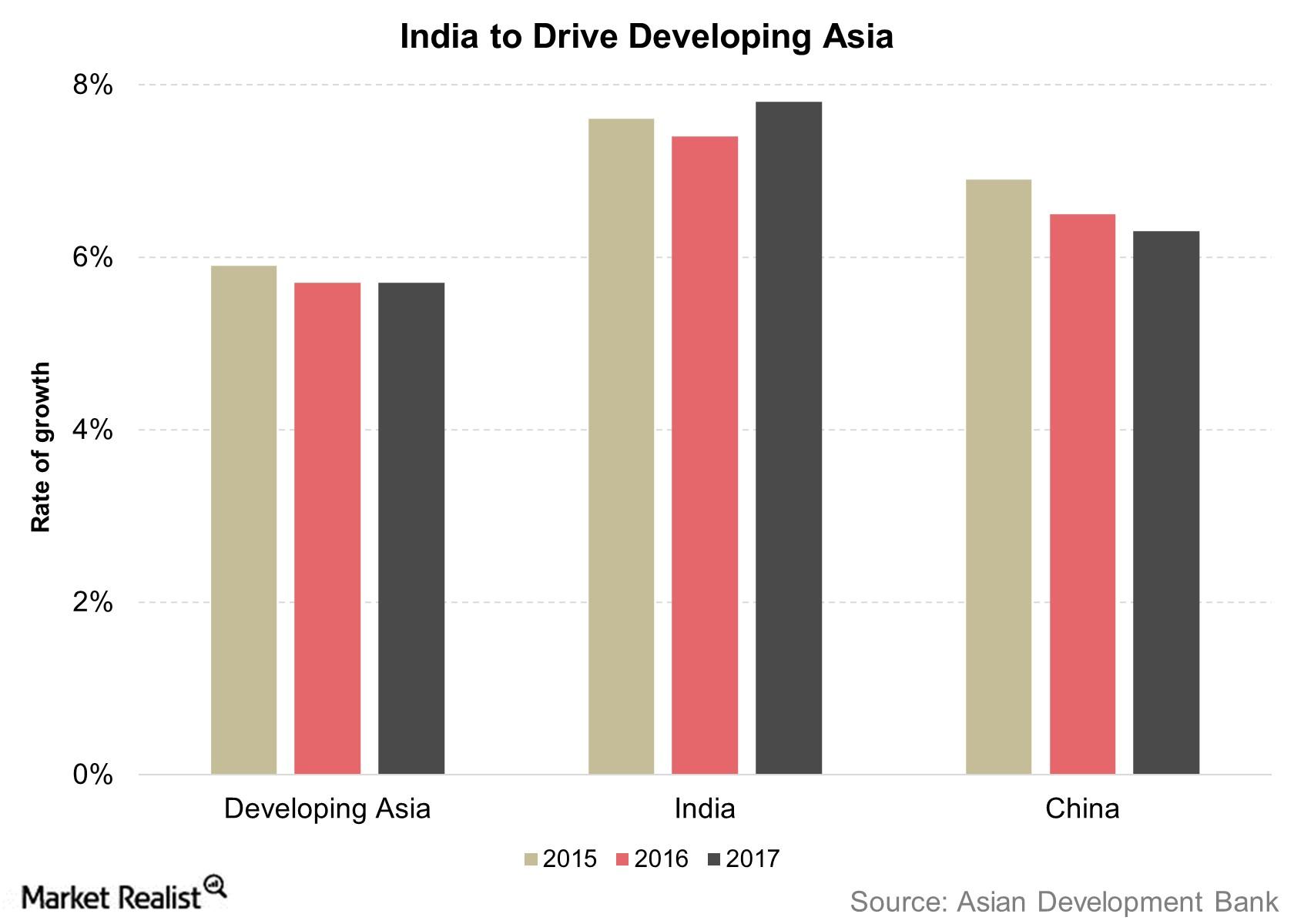 China Takes a Breather as India Drives Growth in Asia
By David Ashworth

Apr. 7 2016, Published 12:28 p.m. ET
A breather after a marathon for China
China has been running a marathon for a long time. What's surprising is the pace at which it was running the race. All of us got used to China posting mesmerizing economic growth numbers even in difficult times. But in today's globalized world, one nation can't be an island and have runaway growth while the rest of the world lags far behind.
The modern world is more like a joint family. Every member has its own pace of life but can't be blind to what's happening with other members.
Article continues below advertisement
A slowing world economy caught up to China (FXI) (MCDFX) and has forced it to restructure the drivers of its economy. Its export prowess has diminished as the world isn't demanding products at the pace it was earlier due to unemployment, low wage growth, and uncertainty. This is forcing China to save more than it spends.
In its Asian Development Outlook 2016 report, the ADB (Asian Development Bank) projected that China's economic growth will slow down to 6.5% this year and to 6.3% next year. The reasons cited were weakening demand for its exports and slowing investment. The bank, however, said that government spending, consumption, and services will be able to support the country's economy.
India to drive developing Asia ahead
Even though the ADB slashed its economic growth projection for India for this year to 7.4%, the pace remains very healthy. The bank is of the opinion that India was able to post robust growth in 2015 because weak exports were offset by strong public investment.
The ADB added that more foreign direct investment in the country, along with "stronger corporate and bank sheets," will help the nation to maintain its growth.
Among its BRIC (Brazil, Russia, India, and China) peers and emerging markets, India is the most solidly positioned economy-wise. If the reform process picks up speed this year and next year, India's economy will become stronger, and its financial markets (WIT) (RDY) (HDB) will catch up with these strong fundamentals. However, the country faces threats from interest rate hikes in the United States and a rebound in energy prices.
From the next article onward, we'll look at funds that invest in the Asia-Pacific region. We'll look at quantitative metrics to see which funds have outperformed others so far this year and over the last year. Overall, we'll try to draw a picture of how to proceed with investing in the region.
First up, we'll look at the metrics of the Columbia Pacific/Asia Fund Class A (CASAX).