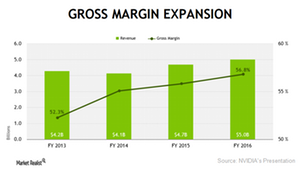 Can NVIDIA Maintain a Gross Margin above 57% in Fiscal 1Q17?
By Puja Tayal

Updated
Possibility of an earnings surprise
In the previous part of this series, we saw that fiscal 1Q17 is expected to be seasonally slow for NVIDIA (NVDA) after two-quarters of record earnings. However, an earnings surprise is likely, given the launch of Facebook's (FB) VR (virtual reality) headset Oculus Rift.
Although NVIDIA does not make chips for VR headsets, gamers need to purchase a computer that supports VR. NVIDIA's GTX 970 GPU (graphics processing unit) or Advanced Micro Devices' (AMD) R9 290 GPU support VR. In this case, NVIDIA is likely to do well as three out of four gamers prefer NVIDIA GPUs, according to a recent article by WCCF PTE.
Article continues below advertisement
Gross margins and expenses
On the profitability front, NVIDIA expects to maintain its non-GAAP (generally accepted accounting principle) gross margin above 57% in fiscal 1Q17. The company has consistently expanded its gross margin over the past four years, from 52.3% in fiscal 2013 to 56.8% in fiscal 2016. This is because the company shifted its exposure from the low-margin personal computer and workstation sectors to the high-margin gaming, data center, and automotive sectors. These three sectors have gross margins higher than the overall company's average.
The company also expects to maintain its non-GAAP operating expenses at the fiscal 4Q16 level of $445 million by spreading R&D (research and development) efforts across all four segments equally. The operating expense also includes litigation costs associated with the patent lawsuit against Samsung (SSNLF).
The lawsuit is ongoing and if the court rules in NVIDIA's favor, the company might get a new licensing deal with Samsung, which would offset the revenue loss from the expiry of its licensing deal with Intel (INTC).
Return to shareholders
Like Intel, NVIDIA gives returns to shareholders firstly by investing in the business, secondly through dividend payments, and lastly through share buybacks. The company has been building its cash reserves to invest in future technology. As of January 31, 2016, its cash reserves stood at $5 billion with no long term debt.
For fiscal 2016, the company committed to return $1.1 billion to its shareholders. According to NVIDIA chief financial officer Colette Kress, between January and April 2016, it returned $562 million in the form of dividend and share buybacks. This is likely to reduce the company's free cash flow in fiscal 1Q17.
In the next part of this series, we'll see how the company's stock performed in fiscal 1Q17. The VanEck Vectors Semiconductor ETF (SMH) has exposure to 26 semiconductor stocks, including 3.9% to NVDA and 13.8% to INTC.