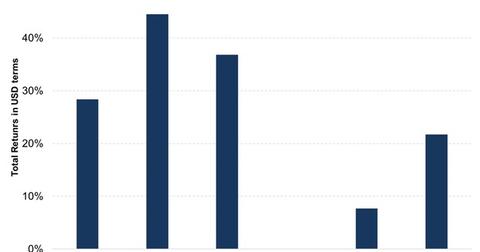 Brazil's Ibovespa and Mexico's IPC Had a Good 1Q16
By David Ashworth

Apr. 5 2016, Published 11:55 a.m. ET
Ibovespa is up in double digits
Brazil's Ibovespa index has towered over emerging market indexes in year-to-date 2016. In terms of the Brazilian real, the index is up by 15.6% in 1Q16. March has been especially good for the index as its total returns stand at 17% for the month. In dollar terms, the index's total returns for 1Q16 stand at 28.9% while in March, the index was up by 31.1%.
The financials and energy sectors have especially benefited from this trend. Financials have returned the most in 1Q16 while energy led all sectors in terms of total returns in March. Banco Bradesco S.A. (BBD), Multiplan Empreendimentos Imobiliarios SA, and BM&F Bovespa SA have posted the highest total returns in 1Q16 among the financials. Cosan SA Industria e Comercio and Petrobras (PBR) have led the energy sector in terms of total returns for the period.
Industrials lost out as the sector returned -4.6% in 1Q16 in Brazilian real terms. It was followed by materials, which was down by 0.6% in the period. Rumo Logística Operadora Multimodal SA and Embraer SA (ERJ) were the largest individual decliners from the industrials sector.
Fibria Celulose SA (FBR) and Suzano Papel e Celulose SA were the biggest decliners from the materials sector. However, these two sectors posted positive returns in dollar terms.
Article continues below advertisement
What about Mexican stocks?
Since we are discussing passive and active investment vehicles that invest in Latin America, a look at the performance of Mexican equities (EWW) would be helpful.
Mexico's IPC stock index has returned 7% in 1Q16 in peso terms. In dollar terms, it has returned 7.7%. Materials stocks have rocketed by over 20% in this period and were led by CEMEX, S.A.B. de C.V. (CX), whose total returns stand above 33% in the period. Meanwhile, healthcare and utilities, which are represented by one stock each, have declined during 1Q16.
In the next article, let's pit the performance of passive funds tracking Brazil (EWZ) and Latin America versus active funds investing in the region.