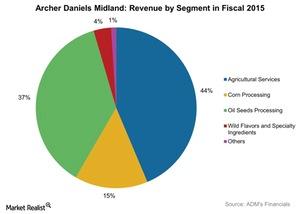 Did the Brazilian Ethanol Plant Contribute to ADM's Operations?
By Sushree Mohanty

Apr. 5 2016, Published 4:13 p.m. ET
ADM's segments
Archer Daniels Midland Company (ADM) earns its revenue through four segments: Agricultural Services, Corn Processing, Oilseeds Processing, and Wild Flavors and Specialty Ingredients.
The Brazilian ethanol plant that ADM is selling is part of the Corn Processing segment. This segment produces ingredients used in the food and beverage industry and ethyl alcohol for industrial use as ethanol or as a beverage. It accounts for ~15%–20% of ADM's total revenue.
Article continues below advertisement
Brazilian ethanol plant contributed a minimum
In 2015, the Corn Processing segment, which accounted for 14.8% of ADM's total revenue in 2015, also included the activities of the company's Brazilian sugarcane ethanol plant and related operations.
According to Chris Cuddy, president of ADM's Corn Processing unit, "As our sole sugarcane ethanol operation in Brazil, this asset is too small for ADM to compete effectively in a challenging ethanol environment." ADM is the biggest ethanol producer in the United States, but it has only a small stake in Brazil.
Raizen, on the other hand, is the largest sugar and ethanol producer in Latin America. It operates 24 mills with the combined capacity to crush more than 62 million tons of cane annually. It produces more than 2 billion liters of ethanol and more than 4 million tons of sugar per year.
How did the corn processing segment perform in 2015?
ADM's Corn Processing segment's operating profit fell from $281 million to $126 million in 2015. Its bioproducts results fell from $227 million to $24 million due to lower ethanol prices, which were hit by the steep fall in crude oil prices.
Lower prices, along with high industry production levels, reduced industry margins in 4Q15. This ultimately led to excess inventories. Lysine operating profits fell due to additional global supply. This resulted in a fall in pricing and margins. However, the results for sweeteners and starches rose by $48 million to $102 million due to lower input costs and better demand.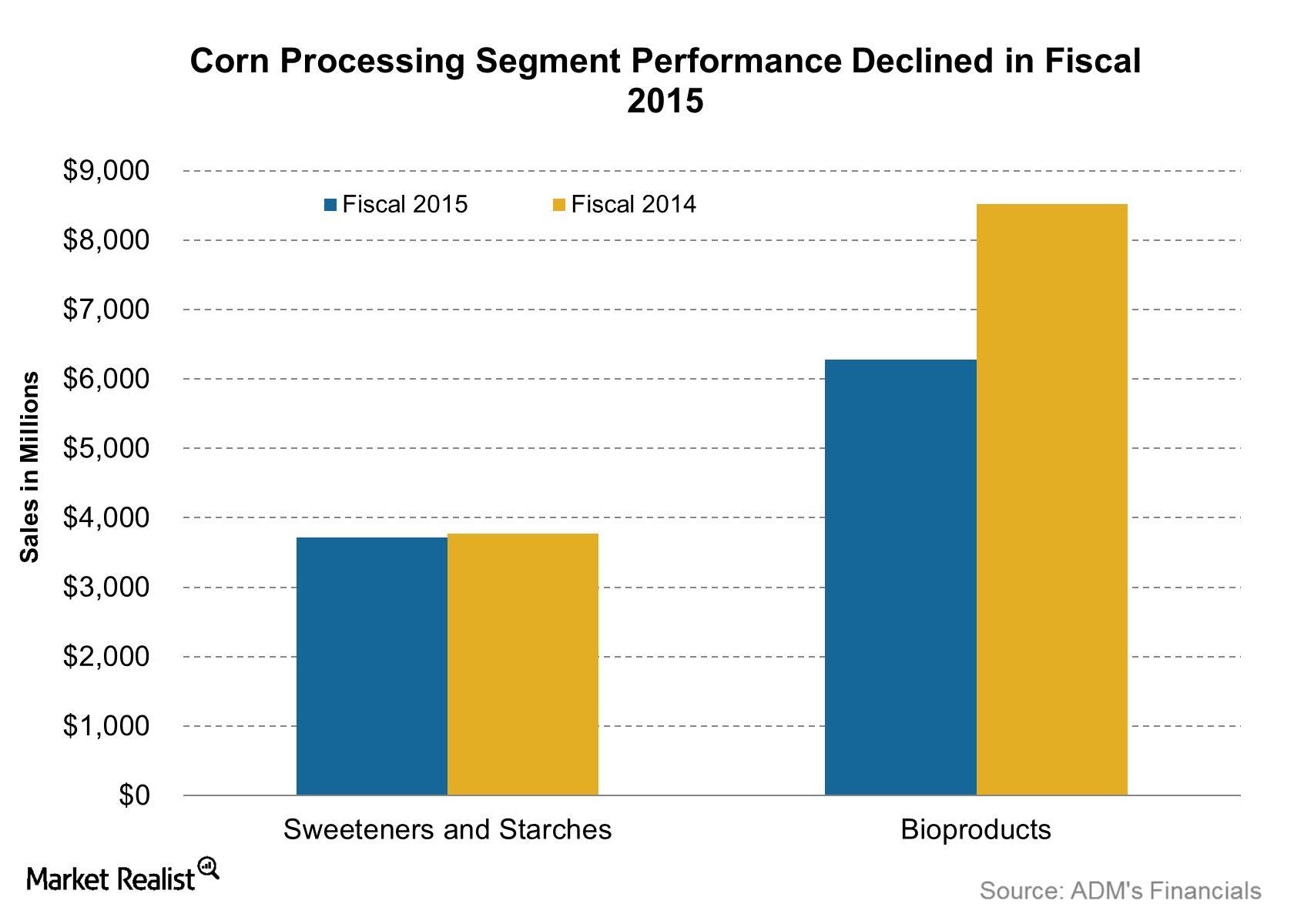 Archer Daniels Midland's industry competitors include Bunge (BG), Ingredion (INGR), and Pinnacle Foods (PF). They reported revenues of $11.1 billion, $1,489 million, and $722 million, respectively, for their last-reported quarters.
The PowerShares DWA Consumer Staples Momentum ETF (PSL) invests 2.8% of its holdings in Ingredion and 1.3% of its holdings in PF. The FlexShares Morningstar Global Upstream Natural Resources ETF (GUNR) invests 3.4% of its holdings in ADM.