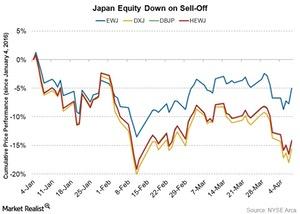 Blackrock Looking to Pull Out of Japan on Concerns over Abenomics
By Surbhi Jain

Updated
Blackrock is looking to pull out of Japan
Foreign investors have increasingly been pulling out of Japanese equities this year. BlackRock is one of them. As we saw in Part 1, Blackrock's CEO (chief executive officer) Larry Fink is critical of the negative interest rates prevalent in the economy. He thinks they tend to ultimately curb consumer spending. Apparently, Blackrock is ending its bullish calls on Japanese equities.
Article continues below advertisement
Concerns over Abenomics are rising
Foreign investors have sold about $46 billion in Japanese equities as of April 10, 2016. This pushed the Nikkei 225, the Japanese equity benchmark, down more than 17% year-to-date as of April 11, 2016. About 70% of Japanese equity is owned by foreign investors, which is why such a sell-off by these investors has the potential to jitter Japanese markets.
Many fund managers, institutional investors, and other Market participants have been bullish on the economy since Abenomics kicked off in late 2012. But now, they're raising concerns over the efficacy of Abenomics.
Consequently, ETFs that track Japanese equities have recorded losses so far in 2016. Below are some of these ETFs and their 2016 performances:
Economic indicators aren't promising either
Macroeconomic reports from Japan haven't been very promising in 2016. This has raised concerns over the effectiveness of Shinzo Abe's so-called Abenomics. In the quarter that ended in December 2015, the economy contracted 0.3%. Business spending did show an uptick, but consumer spending fell more than anticipated.
The inflation rate of 0.3% is nowhere close to the Bank of Japan's target of 2%. This is despite more than three full years of Abenomics. Abenomics may have helped Japan's export-oriented sector by effecting depreciation in the yen. But in 2016, that trend has reversed.
In the next part, let's take a look at the Japanese sell-off that was triggered by capital losses versus interest losses.