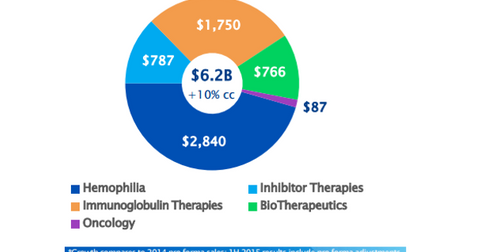 How Could Baxalta Acquisition Become a Catalyst for Shire?
By Jillian Dabney

Updated
Baxalta's hemophilia portfolio
Below are Baxalta's three operating segments:
hematology
immunology
oncology
The company derives around 46% of its total revenue from hemophilia drug sales.
Although Baxalta faces a threat from competitors in the hemophilia space, its robust and hefty investment in hemophilia might help it sustain its leadership beyond fiscal 2020.
Baxalta's hemophilia portfolio consists of base FVIII therapies, extended half-life treatments, and gene therapy.
Article continues below advertisement
As a leader in the hemophilia space, Baxalta offers a wider range of products for treating hemophilia. The company is conducting research on two gene therapies, BAX 335 and BAX 888. It anticipates launching BAX 335 by fiscal 2020 and BAX 888 by fiscal 2023. If approved, these gene therapies might prove to be a new paradigm for hemophilia treatment.
Other companies performing gene therapy research for hemophilia include BioMarin Pharmaceutical (BMRN) and Biogen Idec (BIIB), which is conducting trials in collaboration with Sangamo BioSciences (SGMO).
Will a Shire-Baxalta combination be a catalyst?
Shire's (SHPG) anticipated acquisition of Baxalta could prove to be a catalyst for Shire's valuation in the near term. The combined entity is expected to record revenues of $20 billion by fiscal 2020. Considering Shire's fiscal 2015 revenues of $6.4 billion, it presents a 212.5% sales growth opportunity over the next five years.
The current market capitalization of $35.9 billion is 5.6 times the sales for fiscal 2015. This presents a significant opportunity for improvement in market capitalization. Conservatively and assuming a multiple of three times the forward sales, market capitalization should increase to $60 billion on a price-to-sales basis. So for investors with a long-term perspective, Shire could be an attractive investment opportunity.
To get exposure to Shire and control excessive company-specific risks, you can invest in the ProShares Ultra Nasdaq Biotechnology (BIB). Shire accounts for 1.3% of BIB's total holdings.
Next, let's analyze Shire's performance on an EV-to-EBITDA (enterprise value to earnings before interest, taxes, depreciation, and amortization) basis.