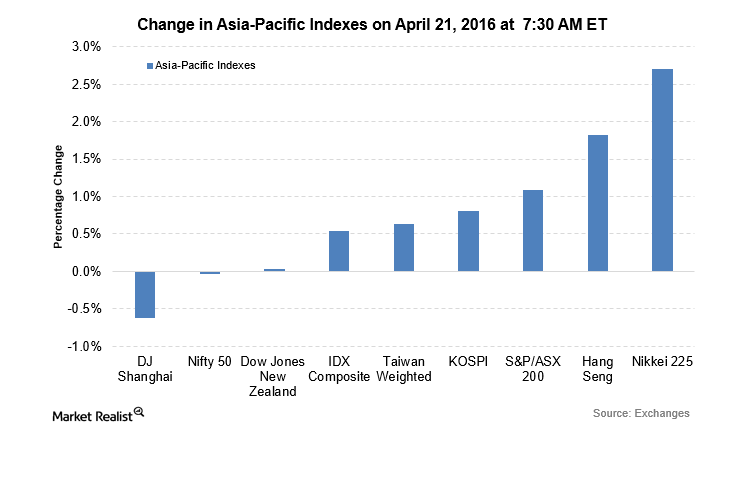 Most Asian Markets Rose Today: Why the Nikkei 225 Led the Pack
By David Meyer

Apr. 21 2016, Published 10:27 a.m. ET
The Nikkei 225 led the uptick in Asian markets
Asian markets (AAXJ) mostly traded higher this morning—with the exception of Chinese indexes. They still look shaky after a heavy fall yesterday. The Chinese (MCHI) DJ Shanghai index fell 0.62% on April 21 after falling 2.3% the previous day. The other major Asian economy was trading on a contrasting note. The Japanese (DXJ) Nikkei 225 posted the largest gains for the day. The Nikkei 225 has risen nearly 6% over the last three days, and it rose 2.7% today.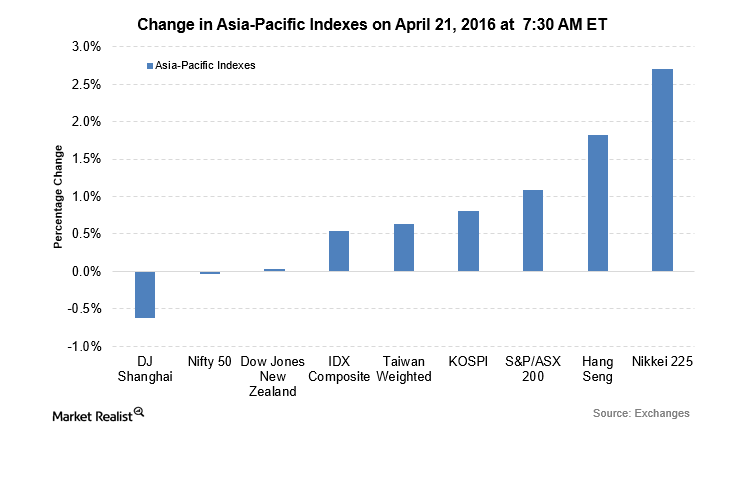 The Oceania indexes also traded positively despite mixed data release. The Australian (EWA) index S&P/ASX 200 and the Dow Jones New Zealand (VPL) index rose 1.1% and 0.03%, respectively. The Indian (INDA) Nifty 50 continued to trade near flat. It had a slight fall of 0.03%.
Article continues below advertisement
Strengthening yen might make the BoJ act
The Nikkei 225 gaining strength over the past three trading days was due to both the data release and expectations of further easing from the Bank of Japan or BoJ. The US dollar–Japanese yen currency pair has been on appreciating since the last BoJ meeting. The BoJ is expected to come up with further easing policies. The strengthening currency should hamper the export-driven Japanese economy. This expectation for monetary easing has been a major driving force for the Nikkei 225 trading higher this week. The dollar–yen currency pair was at 109.7 at 8:00 AM EST today. The Japanese Foreign Bond investment data and stock investment data for the week ending April 16 came in way above market expectations at 844 billion yen and 538 billion yen, respectively.
Oceania data release mixed
Statistics New Zealand published month-over-month visitor arrivals with a rise of 4.1% against the previous month's fall of 1.2%. Year-over-year credit card spending rose 4.8%, which was below the previous month's rise of 7.3%. The National Bank of Australia published the quarterly business confidence index slightly below the previous month's figure at 4.