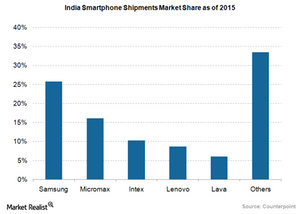 Apple Aims to Increase Penetration of India's Smartphone Market
By Puneet Sikka

Updated
Apple commands only 2% share of India's smartphone market
In the previous part of this series, we discussed the growing focus by Apple (AAPL) on India. According to Counterpoint, India (EPI) recently overtook the US to become the second-largest smartphone market, behind only China. However, Apple still only commands a 2% share in India's smartphone market.
According to that report and as the chart below shows, Samsung (SSNLF) led the Indian smartphone market last year, with Micromax, Intex, Lenovo (LNVGY), and Lava taking the up the remaining four positions among the top five players in this market. Microsoft (MSFT) lost its place among the top five players in this market due to the declining popularity of the Lumia line of smartphones.
Article continues below advertisement
Apple's initiatives in India have yet to bear fruit
Apple (AAPL) released the low-cost iPhone SE in March 2016, accompanied by high expectations. It released this smartphone in India in early March, but it has so far failed to garner much interest from users. The problem with the iPhone SE is that although it costs $430 in the US, it is sold at the higher price of $586 in India, according to the Wall Street Journal.
iPhones cost more in India because Apple currently depends on third-party distributors to sell the devices in India, adding their commissions to the phone's price. However, as discussed in the previous article, Apple plans to open its own stores in India, which could help bring down the prices of iPhones in India going forward.
This isn't the first time Apple has launched a cheaper version of the iPhone. In 2013, Apple launched the iPhone 5C at around $500.
In 2015, Apple announced that it would slash the price of the iPhone 5S from $665 to $370, according to a report from the Times of India. However, all these efforts have still not helped Apple's penetration of the Indian smartphone market. In our view, Apple would have to do much more to achieve that goal.