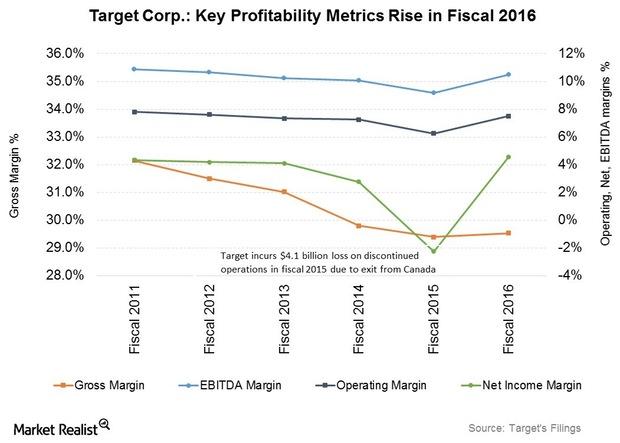 Analyzing Target's Profitability Record and Potential Gains
By Phalguni Soni

Dec. 4 2020, Updated 10:53 a.m. ET
Profitability and gains
Target (TGT) has had one of the most consistent profitability records among consumer discretionary (XLY) companies. The exception to this was fiscal 2015, when the company incurred an extraordinary loss following its exit from Canada.
Target's adjusted EBITDA (earnings before interest, tax, depreciation, and amortization) margin was 9.9% in fiscal 2016, a rise of about 0.5 percentage points from 9.4% in fiscal 2015.
In contrast, mass merchandisers Walmart (WMT) and Costco (COST) saw adjusted EBITDA margins of ~7% and 4.1%, respectively, in their last fiscal years. Department store rivals Macy's (M) and Kohl's (KSS) earned EBITDA margins of 11.4% and ~13%, respectively, in their last fiscal years.
Article continues below advertisement
Target's $2 billion cost savings goal
Target is looking to further expand its profitability. The retailer is targeting $2 billion in annual cost savings in fiscal 2017. Most of these savings will relate to operational SG&A (selling, general, and administrative) costs as the retailer tightens its belt.
Margins are expected to expand
Over the long term, Target's profitability is expected to rise, partly as a result of achieving its cost savings goal and partly due to the expansion in its gross margin. The company is projecting a long-term gross margin of 30%, up from 29.5% in fiscal 2016.
Target's adjusted EBITDA margin is expected to rise to 10.5% over the long term. The increase will come due to the sale of Target's pharmacies and clinics business to CVS Health (CVS) last year, a transaction that is expected to be margin accretive.
Read the analysis of the benefits of the transaction for both Target and CVS Health in Why Target's Pharmacies Sale to CVS is an Industry Game-Changer.
On the other hand, Walmart's margins are expected to shrink due to investments in technology, higher wages, and training costs taking tolls on its near-term profitability. Walmart expects its margins to stabilize and its profits to rise in fiscal 2019.
We'll discuss Target's earnings outlook and growth expectations later in this series. The next article discusses Target's investments.