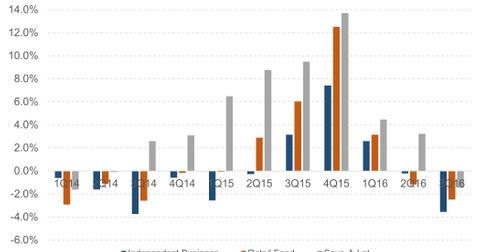 A Look Back on Supervalu's Sales Growth in Fiscal 3Q16
By Sonya Bells

Updated
Weak sales on lackluster performance of all three segments
Supervalu (SVU) reported a 2.6% YoY (year-over-year) decline in the top line to ~$4.1 billion in fiscal 3Q16. The sales decline was due to a poor showing by the company's three business segments.
Revenue from the Independent business segment, which comprised ~47% of sales in 3Q16, was down by 3.5% primarily due to lower sales to existing customers and store closures. The biggest driver of the lost customer volume for the segment was due to Albertsons' transition to self-distribution. SVU had been a supplier to Albertsons since 2010.
Save-A-Lot's net sales declined by 1.5%, mainly due to a 3.4% decline in its same-store sales. It was the third consecutive quarter of decline in the Save-A-Lot segment's same-store sales.
Same-store sales had declined by 0.3% in the first half of fiscal 2016 after growing by 5.8% in fiscal 2015. Deflation was been cited as the key reason behind the decline in the segment's sales over the last three quarters.
Article continues below advertisement
Retail Food net sales in fiscal 3Q16 fell by 2.5% as it witnessed a decline in same-store sales by 2.6%. The performance of this segment has been unimpressive as its sales have been almost flat over the last four years. In fiscal 2013, SVU sold a part of this business to Cerberus Capital Management in order to reduce its debt and add some cash to the balance sheet.
SVU's same-store sales weaker than peers
Supervalu's same-store sales have been particularly unimpressive when compared to supermarket peers such as Kroger (KR) and Sprouts Farmers Market (SFM). Kroger saw a 5% increase in same-store sales during the last reported quarter, which ended January 30, 2016. Sprouts Farmers Market reported a 5.8% increase in the sales comps for the quarter ended January 3, 2016.
Whole Foods Market (WFM) has also been facing the heat of increasing competition in the retail food space. However, its same-store sales were better than SVU and stood at 2.5% in the last reported quarter, which ended January 17, 2016).
Supervalu (SVU), Kroger (KR), Whole Foods (WFM), and Sprouts Farmers Market (SFM) are included in the holdings of the Fidelity MSCI Consumer Staples Index ETF (FSTA) and have a combined weight of ~2.6%.
Read the next section to learn about the profitability and margins of Supervalu (SVU) in 3Q16.