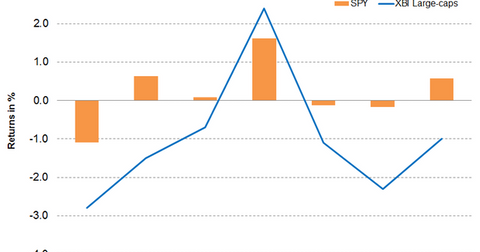 XBI Large-Cap News: Amgen Wins Repatha Patent Case against Regeneron
By Peter Neil

Updated
Large-cap stocks lose
On March 16, 2016, the large-cap stocks of the SPDR S&P Biotech ETF were down by 1%. Vertex Pharmaceuticals (VRTX) and BioMarin Pharmaceuticals (BMRN) were the top losers, with returns of -4.3% and -3.7%, respectively. The large-cap stocks of XBI account for ~20% of the fund's portfolio, and among the 11 large-cap stocks that XBI holds, six declined while five made advances.
The above graph reflects the performance of XBI's large-caps compared with the SPDR S&P 500 ETF (SPY). In the March 8–16 period, XBI's large-caps have returned -7% while SPY has returned 1.5%.
Article continues below advertisement
Amgen wins Repatha patent case against Regeneron
In a recent press release, Amgen (AMGN) announced that "a Delaware jury delivered a verdict in Amgen's favor in a trial on the validity of two Amgen patents that describe and claim monoclonal antibodies to proprotein convertase subtilisin/Kexin type 9 (PCSK9)."
Recently, Amgen brought a patent infringement action in Delaware Federal Court against Sanofi (SNY) and Regeneron (REGN). But Sanofi and Regeneron had already admitted to infringing seven patent claims—US Patent Numbers 8,829,165, and 8,859,741. The jury found that the defendants "had failed to prove the patents invalid for lack of written description and enablement."
Marginal gains
However, both Amgen and Regeneron gained marginally, with rises of 0.5% and 0.3%, respectively. Amgen closed at $143.98 and was trading below its 20-day moving average. YTD (year-to-date) Amgen was down by 11.3%. Amgen's 52-week high is $181.81, and its 52-week low is $130.09. The book value of the stock is $37.25 per share. With its current price, the stock is trading at a prie-to-book value of ~3.9x and trading at a 2016 forward price-to-earnings multiple of ~13.3x, compared to Regeneron's 31.7x. Amgen has a weight of ~2% in XBI. Regeneron has a weight is ~1.5%.
In the next and final part, we'll look at XBI's most recent mid-cap performances.