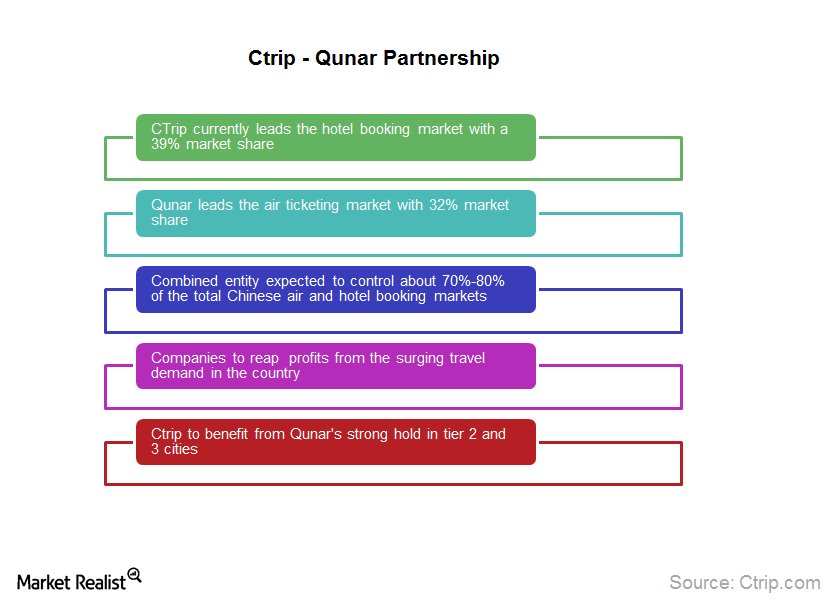 How Will Qunar Benefit from the Ctrip.com Partnership?
By Ally Schmidt

Mar. 15 2016, Updated 11:05 p.m. ET
Deal snapshot
After a number of failed attempts and unsuccessful talks, Chinese online travel companies Ctrip.com (CTRP) and Qunar Cayman Islands (QUNR) have reached a partnership agreement through an exchange of shares in October 2015.
The deal was made possible by Baidu (BIDU), a majority stakeholder in Qunar, which facilitated the partnership when it saw better profitability for both companies. The deal is valued at around $3.4 billion. Ctrip.com will own around 45% of Qunar. Baidu will have a 25% share in Ctrip.com.
In January 2016, CTRP announced another major investment in Qunar. US OTA (online travel agency) major Priceline (PCLN) has an investment in Ctrip.com.
Article continues below advertisement
Deal benefits
increased margins: The alliance between Qunar and Ctrip.com is expected to reduce the price wars and lead to better profitability for both companies. This could lead to the creation of a single dominant online travel service in China. Ctrip.com's investment in another major rival, eLong (LONG), in May 2015 has already curbed price wars. Qunar's management expects to turn EBITDA (earnings before interest, tax, depreciation, and amortization) positive in the second half of 2016.
synergy benefits: The Qunar partnership with Ctrip.com will also create synergy benefits for both players. Ctrip.com currently leads the hotel booking market with a 39% market share. Qunar leads the air ticket market with 32% market share. The combined entity is expected to control about 70%–80% of the total Chinese air and hotel booking markets. This will help the companies reap better profits from the surging travel demand in the country. Qunar also has a strong hold in tier 2 and tier 3 cities. CTRP hopes to extend its presence in these growing markets.
Both QUNR and Ctrip.com stand to gain significantly from synergies through sharing of inventory, users, and promotional costs.
Investors can gain exposure to the Chinese OTA (online travel agency) market by investing in the PowerShares Golden Dragon Halter USX China ETF (PGJ).
In the next part of this series, we'll see the changes Qunar has made in its management.