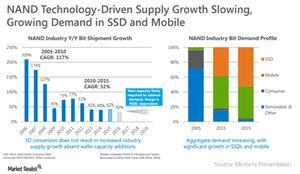 How Will the Memory Market's Transition to 3D Impact Earnings?
By Puja Tayal

Updated
Overview of the memory market
So far, we have seen how external factors have affected semiconductor companies exposed to different customer segments and geographies. In the remaining parts of this series, we will look at the memory, automotive, and data center markets, as well as the trends and factors governing them.
The memory market mainly comprises volatile memory DRAM (dynamic random, access memory) used in computing, as well as non-volatile flash memory NAND (negative AND) used in consumer products.
Article continues below advertisement
Memory market transitions to 3D
The memory market is transitioning from 2D NAND to 3D NAND in 2016.
Impact on SME suppliers
The increasing investment in the memory space boosted revenues and new orders for SME (semiconductor manufacturing equipment) suppliers. Memory accounted for 65% of Lam Research's total shipments and 48% of new orders received by KLA-Tencor in the December 2015 quarter.
Applied Materials witnessed strong orders in flash memory. It expects its DRAM investment to fall by 20% and its flash investment to rise by 25% in 2016.
Memory market forecast for 2016
The overall memory market is slowing, but its DRAM growth is slowing at a higher rate than NAND. Micron expects the supply-side growth in the DRAM industry to slow from 25% in 2015 to 24% in 2016 and that in the NAND industry to slow from 42% to 32% during the same period.
Intel and MU have jointly developed a breakthrough memory technology 3D XPoint. Meanwhile, SNDK and HP have jointly developed SCM (storage-class memory) technology that is believed to compete with 3D XPoint. The impact of these two technologies in the memory market remains to be seen in the long-term.