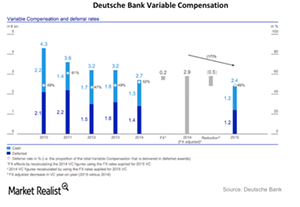 Will Cutting Bonuses Help Revive Deutsche Bank?
By Rebecca Keats

Mar. 17 2016, Updated 8:05 a.m. ET
No bonuses for the management board in 2015
Deutsche Bank (DB) did away with bonus payments to its ten-member board for 2015 as a "matter of justice." John Cryan, co-CEO of the company, said that it would be inappropriate not to scale back variable compensation for the board members as the bank is in a process of restructuring and cutting down expenses. The company cited mounting legal expenses and huge losses in 2015 as the primary reasons for the bonus cut. Annual bonuses for employees were 17% lower in 2015 on a constant currency basis. However, the company increased fixed pay to compensate for the loss of variable compensation.
John Cryan has been under tremendous pressure to cut expenses, strengthen capital, and drive value for shareholders after the bank has become the worst-valued stock among European banks (EUFN), including UBS (UBS), Credit Suisse (CS), Barclays (BCS), and Royal Bank of Scotland.
Article continues below advertisement
Further details of compensation
According to the bank's annual report released last week, it paid 756 employees greater than 1 million euros in 2015, fewer than the 816 employees receiving more than 1 million euros in 2014. The company announced bonuses worth 2.4 billion euros for the year, down 17% on a constant currency basis from the 2.7 billion euros paid in 2014. Variable compensation at the investment banking and trading unit was 1.5 billion euros, 15% lower than in 2014. Overall, total compensation increased by 5.1% year-over-year to 10.5 billion euros, and headcount rose 3% to 101,104 employees in 2015.