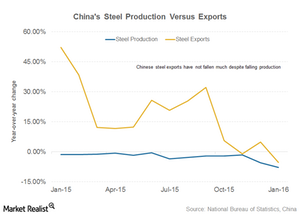 Will China's Capacity Cuts Be Enough to Restore Global Balance?
By Mohit Oberoi, CFA

Mar. 4 2016, Updated 8:38 a.m. ET
China's capacity cuts
As discussed previously, China plans to curtail its excess steel capacity. However, even if China actually cuts the excess steel capacity, it could be in a very gradual way. However, steel companies (XME) like Ternium (TX), POSCO (PKX), Gerdau (GGB), and Timken Steel (TMST) want immediate and substantial cuts in China's steel capacity.
Article continues below advertisement
Chinese steel exports
Another interesting data point was China's January steel production. Though China produced almost 8% less steel in January as compared to the same period last year, its steel exports fell only a little above 5%. For the last few months, Chinese steel exports have not fallen in line with the production slowdown. Chinese steel demand could actually be contracting at a much faster rate than many are anticipating. This demand-supply mismatch would mean Chinese steel exports will continue to flood global markets. Plus, the slowdown in Chinese steel demand won't wither away anytime soon.
Construction slowdown
The construction sector, which accounts for over half of the Chinese steel demand, has been in a contraction mode. Last year, Chinese real estate development enterprises purchased 32% less land for future construction as compared to 2014. Lower land purchase points to the slowdown in future construction activity. As fewer buildings come up for construction in 2016 and beyond, we'll see further deceleration in Chinese steel demand. Furthermore, the Chinese government isn't aggressively investing in infrastructure creation as it did a few years back, which is in line with the country's objective of moving to a consumption-driven economy. China's new normal, which relies on consumer spending rather than investment-driven growth, would keep the country's steel demand subdued.
What would this mean for steel prices? We'll find out in the next part of the series.