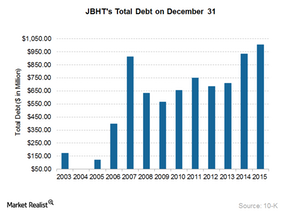 Why JBHT's Balance Sheet is Cleaner than the Railroads'
By Samuel Prince

Nov. 20 2020, Updated 5:20 p.m. ET
Trucking leverage levels
In this part, we will go through J.B. Hunt Transport's (JBHT) debt levels. In common parlance, leverage refers to debt. Road transportation companies, including JBHT, are required to spend less on capital assets compared with their railroad peers.
While railroads are required to lay down tracks for expansion, this is not the case with trucking companies. These companies flourish on highways built by federal and state governments in the US. Hence, the industry-wise debt levels are relatively low in the trucking space.
Article continues below advertisement
J.B. Hunt's debt levels
J.B. Hunt (JBHT) predominantly uses debt for the purchase of revenue equipment. Usually, a truck is replaced in four years. However, the company didn't replace trucks purchased from 1998–2000. This resulted in truck orders plummeting to 150,000 units per year. It was able to erase debts due to strong cash flows and proceeds from a secondary stock offering.
In 2007, JBHT issued significant long-term debt to acquire trailers that were previously leased. When the financial crisis of 2008 hit, the company reduced its debt burden. Out of the total long-term debt obligations of $1.0 billion at the end of 2015, there are no maturities from 2016 through 2018. If you look at the above graph, after 2013, the company has expanded its capital base. It has used the capital for the purchase of revenue equipment.
The company's total assets increased by $258 million to $3.6 billion in 2015. The increase is primarily attributed to investments in revenue equipment. JBHT's equity and liabilities base expanded due to additional paid-up capital of $210.0 million and ~$71.0 million in net debt issuance.
In order to have a better understanding of JBHT's debt levels, let's compare it on a whole firm basis with the peer group. Companies that have a high debt-to-market-capitalization ratio can be volatile. All these companies are J.B. Hunt's competitors in the full truckload space. The debt-to-market capitalization ratios are as follows:
J.B. Hunt Transport (JBHT): 0.12
Knight Transport (KNX): 0.06
Landstar System (LSTR): 0.06
Swift Transportation (SWFT): 0.72
Werner Enterprises (WERN): 04
Marten Transport (MRTN): 0.07
Covenant Transportation Group (CVTI): 0.73
A few companies discussed above are part of the First Trust Industrials/Producer Durables AlphaDEX ETF (FXR).
In the coming article, we'll go through the projections made by J.B. Hunt Transport for fiscal 2016.