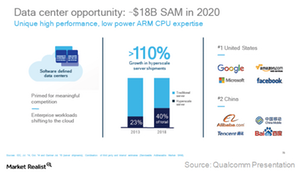 What's Qualcomm's Strategy to Enter the Data Center Market?
By Puja Tayal

Mar. 24 2016, Updated 8:04 a.m. ET
Qualcomm in the server space
In the last part of this series, we saw that Qualcomm (QCOM) is moving aggressively to grow in adjacent markets. At the same time, the company is also looking to tap the data center market with its ARM (Advanced RISC Machines) chips. With cloud companies such as Google (GOOG) and Facebook (FB) making their own architecture and software, the main roadblock of software technology has been removed. This has opened up the data center market for chipmakers. Qualcomm expects data centers to be an $18 billion SAM (serviceable addressable market) by 2020.
The company has entered into strategic partnerships as a first step in this direction. It's targeting the US and Chinese (FXI) data center markets.
Article continues below advertisement
Guizhou Province partnership
In January 2016, Qualcomm formed a partnership with Guizhou Province to design and build server chips. It will also open a cloud service center in the province. With this, the company looks to target the second-largest and fastest-growing server market—China.
Red Hat partnership
Qualcomm has partnered with Red Hat (RHT) to integrate its 64-bit ARM server chips with Red Hat Enterprise Linux. If the two companies succeed in developing an ARM-based Linux server, they will offer more power efficient and less expensive servers than Intel (INTC) servers.
Article continues below advertisement
Google partnership
According to a Bloomberg article, Qualcomm is in talks with Google to supply server chips for Google's data centers. The article states that Google will work with Qualcomm on the chip design. If the design meets its expectations, it will deploy the chips in its data centers. Every quarter, Google buys 300,000 server processors and consumes 5% of the overall processor shipments. If Qualcomm succeeds in this integration, its data center revenue will grow.
Xilinx partnership
Qualcomm has partnered with FPGA (field-programmable gate array) vendor Xilinx to boost the speed of its server chips. This will help it cater to the needs of the hyper-scale server market. Intel is integrating Altera's FPGA to boost its server speed.
In the next part of this series, we'll quantify these efforts and look at Qualcomm's growth expectations for each of these markets.