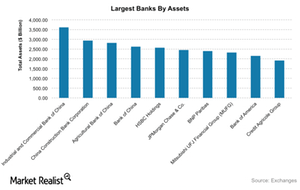 What's Jamie Dimon's Outlook for Chinese Banks?
By Rebecca Keats

Aug. 18 2020, Updated 4:40 a.m. ET
Chinese banks will expand to 100 countries in the next 20 years
Jamie Dimon, JPMorgan Chase's (JPM) CEO and chairman, thinks the Chinese economy (FXI) has the potential to house 30% of the world's largest companies in the next 20–30 years. In his interview with Bloomberg last week, he mentioned that China would have to transform from a "micromanaged type of economy, with all the potential corruption issues, SOE [state-owned enterprise] reform, and market reform" in order to become a developed nation. SOEs have been the fulcrum of Chinese economic growth. Recent figures suggest that the total asset value of central and local SOEs is about $16.3 trillion.
Article continues below advertisement
The challenge of SOEs
However, in recent times, SOEs have been hurdles to the liberalization and reform process in China. The Chinese government is pushing banks to expand their presence around the world. Dimon believes that Chinese banks will expand to 100 countries in the next 20 years and will buy banks in several countries. He is optimistic about ICBC (Industrial & Commercial Bank of China) and thinks it could even grow bigger than JPMorgan Chase.
Currently, ICBC earns twice as much as JPMorgan Chase. It is the largest bank in the world by market capitalization as well as assets. It is one of China's four state-owned banks. The other three are Bank of China, Agricultural Bank of China, and China Construction Bank. The largest banks after these are HSBC, BNP Paribas, Mitsubishi UFJ Financial Group (MTU), and Bank of America (BAC). JPMorgan Chase is sixth on the list of the largest banks in the world.