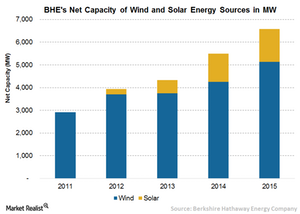 Warren Buffett in Favor of Renewable Energy Sources
By Peter Barnes

Mar. 15 2016, Updated 9:09 p.m. ET
Stress on renewable energy
Berkshire Hathaway (BRK.A) (BRK.B) owns ten energy companies, including three large electric utilities (IDU) serving territories across 11 Midwestern and Western US (IJH) states. BHE (Berkshire Hathaway Energy) owns and operates 4,423 megawatts of wind generation capacity, comprising ~7% of the country's total wind generation capacity.
BHE's wind generation capacity is six times the generation capacity of the runner-up utility. The solar generation capacity of the company comprised 6% of the country's total solar capacity. BHE has invested around $16 billion in the renewable energy space in recent years.
Article continues below advertisement
Commitments to the future development of renewables
Moreover, BHE made major commitments in 2015 to the future development of renewables in support of the Paris Climate Change Conference. The company believes that "fulfilling those promises will make great sense, both for the environment and for Berkshire's economics."
Against solar subsidies
Warren Buffett is also opposed to solar subsidies. NV Energy, Berkshire's Nevada utility, proposed that the state should move away from net metering, which benefits more affluent homeowners at the expense of others.
In his annual letter to shareholders, Buffett warned, "Today, society has decided that federally-subsidized wind and solar generation is in our country's long-term interest. Federal tax credits are used to implement this policy, support that makes renewables price-competitive in certain geographies. Those tax credits, or other government-mandated help for renewables, may eventually erode the economics of the incumbent utility, particularly if it is a high-cost operator."
Clash of traditional versus renewable energies
Warren Buffett points to a likely conflict between traditional electric power (JXI) suppliers and renewable energy sources like solar and wind. He noted that this is due to his view that the operational model of most of the local utilities is rather "sloppy" and that they are not terribly efficient in running the business, unlike many wind and solar companies that are run professionally and efficiently.
Buffett assured the shareholders that Berkshire Hathaway's utilities will remain competitive because of their operational efficiencies.