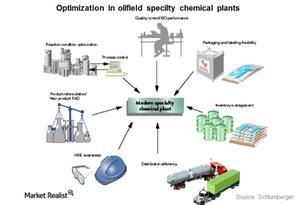 Understanding Environmental Regulations and Efficiency Trends in Specialty Chemicals
By Shannon Black

Updated
Environmental regulations
Greater community awareness toward the degradation of the atmosphere is forcing specialty chemical (XLB) companies to develop processes that reduce the damage done by discharge during manufacturing and use. But meeting stringent laws passed by local and regional governments without making the end consumer suffer from high prices can be an arduous task. Still, these restraints have also opened up new avenues for more sustainable products, and now that conforming to new regulations is now more of a necessity than an option, the production and use of eco-friendly products will likely continue to rise.
Article continues below advertisement
New trends
Zero-level VOC (volatile organic compounds) and odorless paints developed by paint companies have greatly simplified disposal and reduced toxins that are especially harmful to those with chemical allergies. Major coating companies such as Sherwin-Williams (SHW) and PPG Industries (PPG), for example, have a strong product portfolio in water-based solutions.
Meanwhile, in a step toward improving its flagging air quality, China announced a 4% tax on coatings with high VOC (solvent-based coatings) in February 2015 and also called for a 17% tax credit for producers switching to water-based coatings in by early 2016.
In the US, W.R. Grace & Company (GRA) is selling cement additives to Portland cement manufacturers that not only decrease carbon footprints through lower CO2 emissions but also reduce production costs.
Cutting costs without cutting performance
Specialty chemicals and materials (IYM) play a critical role in reducing production costs for end-market producers by reducing wastage and maintenance costs. For example, specialty chemical oilfield products are used to minimize to waste during drilling processes as well as to clean the grime associated with oilfield equipment in a cost-effective manner.
Specialty chemicals and materials companies also aim to provide cheaper, more durable alternatives, such as composites used in the transportation industry are cheaper than their traditional counterparts. This helps reduce machining costs due to the flexibility in their design and have better strength properties. These companies are aiming to reduce supply chain costs by providing lightweight alternative products that have a compounding effect in reducing shipping and handling costs across the supply chain.
For related analysis, keep checking in with Market Realist's Chemicals page.