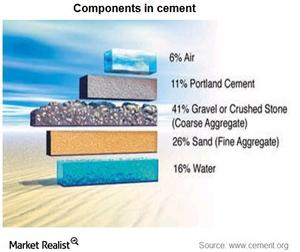 Understanding Construction Chemicals Products: What to Know before Investing
By Shannon Black

Updated
Concrete admixtures
Specialty chemical (IYM) companies such as W.R. Grace & Company (GRA) and RPM International (RPM) sell concrete admixtures that are ready-to-use liquid compounds added to concrete mixes, either shortly before or during mixing. These are particularly attractive to producers because they reduce production costs and modify the properties of hardened concrete. Admixtures are used based on a specific functional requirement, including the following:
Article continues below advertisement
Retarding mixtures are used to slow the settling rate of concrete. These are useful in warmer regions, where concrete hardens more quickly than desired.
Accelerating mixtures work in the opposite direction of retarding mixtures and are more useful in cold weather conditions.
Water reducing mixtures require less water content (5%–10% lower), enabling the mixture to have higher strength without increasing the quantity of cement.
Adhesives and sealants
Construction was the largest end market for adhesives and sealants market of specialty chemicals (VAW), accounting for almost 27% of the overall demand in the year 2014. Adhesives and sealants are used in bonding timber houses, heat resistance, and insulation for windows and doors, whereas grout is used for filling gaps.
Based on the technology used, adhesives could be classified as water-based, oil-based, hot melt, or reactive. Increasing regulations on zero-level VOC (volatile organic compound) use has tilted demand in favor of water-based solutions. They were, therefore, the largest demand drivers, gobbling up around 45% of the overall adhesive demand in 2014. HB Fuller (FUL) and Nordson Corporation (NDSN) are a major adhesive and sealant companies headquartered in the United States.
Asphalt modifiers
Asphalt binders are used to meet the stiffness requirements of asphalt cement under both high and low-temperature stress conditions. This could be impossible in areas with extreme weather conditions without binder applications. Additionally, due to increasing instances of traffic volumes, loads, and tire pressures causing cracking and rutting, additives are now finding applications in areas with moderate weather conditions as well.
Now let's take a look at specialty chemicals in the automotive industry.