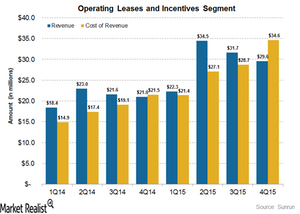 Sunrun's Operations: Segment-Wise Profitability Analysis
By Sheldon Krieger

Updated
Operating leases and incentives
As discussed earlier, Sunrun (RUN) derives its revenue from its Operating Leases and Incentives and the Solar Energy System and Product Sales segments.
Sunrun reported $111.78 million as the cost of operating leases and incentives segment for fiscal 2015 compared to $72.89 million in fiscal 2014.
Also, the costs are on the rise on a quarter-over-quarter basis. For 4Q15, the cost of revenue attributable to the Operating Leases and Incentives segment was more than the revenue generated from the segment.
Over the last three quarters, the company witnessed a nearly 14% drop in its revenues and about 28% increase in costs of revenue. The increase in costs is mainly due to an increase in direct costs associated with the installation of solar (TAN) panels.
Article continues below advertisement
Solar energy system and product sales
Sunrun derives the majority of its revenues from solar energy systems and product sales segment. During fiscal 2015 revenues from this segment came in at $186.60 million compared to $114.55 million in fiscal 2014.
It is important to note that the company began selling solar energy systems from 2014 but succeeded in scaling up its operations under this segment.
Revenues from this segment more than doubled from $27.4 million in 1Q15 to $70.1 million in 4Q15. Moreover, the company could maintain the profit margins in spite of incurring a higher cost of revenue from the segment.
Sunrun's overall profitability
Sunrun reported $304.6 million in consolidated revenues for fiscal 2015 compared to $198.5 million during fiscal 2014. The consolidated costs of revenue for fiscal 2015 came in at $180.5 million compared to ~$173.7 million during fiscal 2014.
The increase in revenue costs of operating leases and incentives segment weighed on Sunrun's profitability during fiscal 2015. Overall gross margin decreased from 12.5% in fiscal 2014 to 7.9% in fiscal 2015.
Sunrun competes with Vivint Solar (VSLR), SolarCity (SCTY), Sungevity, and the downstream operations of SunPower (SPWR) for its market share.
In the next few parts of this series, we'll learn about Sunrun's key financial data.