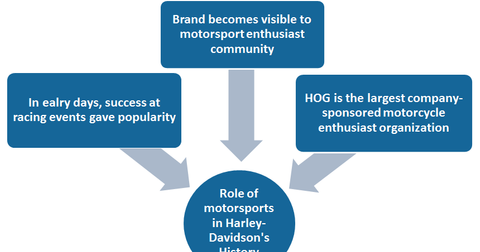 How Success with Motorsports Boosted Harley-Davidson's Brand Image
By Jitendra Parashar

Apr. 5 2016, Updated 2:06 p.m. ET
Harley-Davidson brand
Previously, we looked at key milestones from Harley-Davidson's early history. If we look at the history of Harley-Davidson (HOG), we can see its inseparable relationship with motorcycle racing. In this article, we'll talk about how this relationship helped the company to earn popularity among motorsport enthusiasts and improve Harley-Davidson's brand image.
Article continues below advertisement
Association with motorsports
Harley-Davidson motorcycles have established a significant name in the field of motorcycle racing. In 1905, a Harley-Davidson motorcycle won a 15-mile race in Chicago, its first notable victory. Since then, bike riders with Harley-Davidson motorcycles have set many records and registered victories in races, endurance contests, and hill-climbs.
Note that the company's association with motorsports also boosts the brand image among motorsport enthusiasts, which is one reason the company can sell its motorcycles with such expensive price tags.
The HOG story
Whenever we talk about Harley-Davidson, we should also be aware of its immensely popular sponsored motorcycle club, Harley Owners Group (or HOG). According to the company, "the HOG association started in 1920, when the racing team's mascot, a pig, was carried on a victory lap after each race won by the team."
However, HOG officially began in 1983. It became the largest company-sponsored motorcycle club in the world. Currently, this group has approximately 1 million members worldwide and is the industry's largest company-sponsored motorcycle enthusiast organization.
In addition, HOG also sponsors many motorcycle events including rallies and rides for Harley-Davidson motorcycle enthusiasts throughout the world.
Some of the other automakers (XLY) that also use motorsports to gain publicity include Honda (HMC), Ferrari (RACE), and Daimler (DDAIF).
Continue to the next article to find out where Harley-Davidson's key manufacturing plants are located.