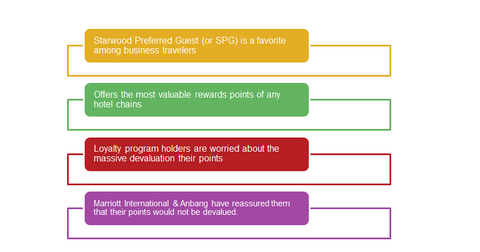 Starwood Loyalty: A Key Point of Marriott's Interest
By Ally Schmidt

Updated
Starwood Preferred Guest program
One of the biggest reasons for Marriott International's interest in Starwood Hotels was to gain access to its powerful Starwood loyalty program. Not only is it a key asset to gain a competitive edge against other hotels, but also from upcoming popular alternative lodging options like HomeAway and Airbnb.
Starwood's loyalty program, Starwood Preferred Guest (or SPG), is a favorite among business travelers. The Starwood Preferred Guest program offers the most valuable rewards points of any hotel chains.
Article continues below advertisement
Although Marriott has its own loyalty program, Marriott Rewards, both programs are very different in terms of point value and elite perks. If they are combined, the new entity would mean a larger loyal customer base. However, the members of Marriott's existing program would not have access to Starwood's portfolio of high-end locations.
Worries for SPG
Just as the merger was announced, Starwood loyalty program members showed concerns over their rewards points and elite status. The Marriott Rewards and Starwood Preferred Guest programs are very different, and the latter has a clear edge over the other in terms of both point value and elite perks.
Loyalty program holders are worried about the massive devaluation their points would undergo if these programs are to be merged. However, Marriott International's CEO, Arne Sorenson, reassured them that their points would not be devalued.
Plus, Anbang Group has assured current SPG members that their points can be redeemed at the same value after the deal.
Investors can gain exposure to the hotel sector by investing in the iShares Russell 1000 Growth ETF (IWF), which invests approximately 3% in the hotel sector. IWF invests 0.14% in Marriott International (MAR), 0.09% in Wyndham (WYN), and 0.12% in both Hilton Worldwide Holdings (HLT) and Starwood Hotels (HOT).