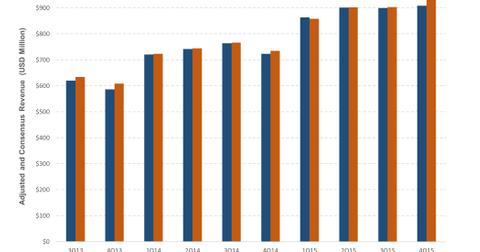 How Sprouts' Revenue Topped Consensus Estimates
By Sonya Bells

Updated
Revenue tops Street expectations by $20 million
Sprouts Farmers Market (SFM) reported a healthy 26.6% YoY (year-over-year) rise in 4Q15 revenue to $930 million, beating Wall Street estimates by $20 million.
The company's top line growth was fueled by a combination of strong sales comps (comparable store sales), the solid performance of new stores, and 2015's additional 53rd week.
Article continues below advertisement
Sprouts continues same-store sales growth spree
Sprouts achieved its 35th consecutive quarter of positive same-store sales growth, reporting a 7.4% rise in comps. Its same-store performance exceeded its own guidance of 5%–5.5% growth on account of a better holiday season.
In addition, as pointed out by Amin N. Maredia, CEO of Sprouts Farmers Market, the company also experienced a benefit of 25 basis points in its California stores, which overlapped with closed Haggen locations.
Sprouts delivers best-in-class same-store sales
The company's performance is particularly impressive when compared to two other major organic and natural players, Whole Foods Market (WFM) and The Fresh Market (TFM). WFM and TFM are increasingly losing their market shares to formerly mainstream companies such as Kroger (KR) and Walmart (WMT), which are adding more and more natural and organic products to their shelves.
As a result of rising competition from bigger competitors, sales of pure-play organic and natural players have suffered. While Whole Foods Market reported same-store sales of -1.8% in its fiscal 1Q16, The Fresh Market's same-store sales were even worse, at -3.7% in its fiscal 3Q16.
On the other hand, Kroger has been quite consistent with its comps. It has reported its 48th consecutive quarter of positive same-store sales growth, excluding fuel, and it's ready to deliver another solid quarter with its results in the coming week.
Sprouts, Kroger, Whole Foods Market, and The Fresh Market are included in the holdings of the SPDR S&P Retail ETF (XRT). Together, they account for approximately 4.2% of the portfolio.
Sprouts' solid top line performance trickled down to even better bottom line growth. Read the next section to know more about the company's margins and profitability in 4Q15.