Six Advanced Studies for Roche's Atezolizumab
By Jillian Dabney

Mar. 28 2016, Updated 1:04 a.m. ET
Atezolizumab
Atezolizumab, an advanced pipeline drug by Roche Holding (RHHBY), is designed to block the Programed Death Ligand-1, or PD-L1, protein. The drug was given a "Breakthrough Therapy" designation from the US FDA (Food and Drug Administration) for two indications, mUC (metastatic urothelial cancer) and PD-L1 positive NSCLC (non-small cell lung cancer) in 2014 and 2015, respectively. In 2016, the company plans to submit the trial data to global health authorities.

Article continues below advertisement
Atezolizumab in NSCLC patients
Globally, lung cancer results in nearly 1.6 million deaths. Lung cancer can be further divided into two types—NSCLC and small-cell lung cancer—but NSCLC constitutes around 85% of total lung cancer cases.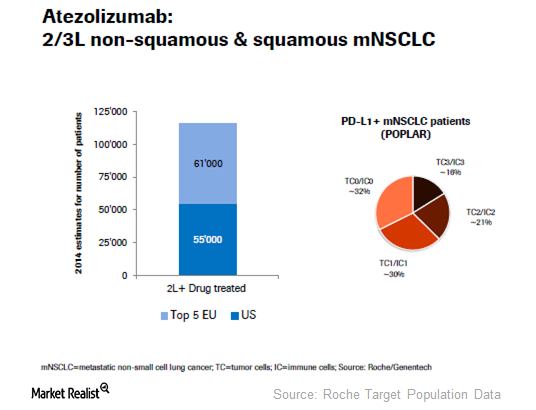 The company conducted both a Polar and a Birch study for the drug. The Polar study enrolled 287 subjects with previously treated advanced NSCLC, whereas the Birch study included 667 patients with locally advanced or metastatic NSCLC with PD-L1 expression.
Roche and Amgen (AMGN) collaborated "to evaluate Amgen's talimogene laherparepvec in combination with Roche's atezolizumab in patients with triple-negative breast cancer and colorectal cancer with liver metastases."
Atezolizumab in advanced bladder cancer
Roche conducted an IMvigor 210 study to evaluate the safety and efficacy of the drug in the population with locally advanced or mUC, regardless of PD-L1 expression. Metastatic urothelial cancer is the ninth-most-common type of cancer globally, resulting in 145,000 deaths each year. Competitors for the drug include Bristol-Myers Squibb's (BMY) Opdivo and Merck's (MRK) Keytruda.
Of course, the approval of any competitor drug as well as the success or failure of the drug generally results in stock price volatility. To avoid such risks, you might consider options such as the Vanguard FTSE All-World Ex-US Index Fund (VEU), which has 1.03% of its total holdings in Roche.