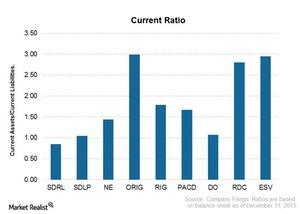 RDC, ESV, ORIG: Why Are They the Most Liquid Offshore Drillers?
By Sue Goodridge

Apr. 1 2016, Updated 7:06 p.m. ET
Liquidity
Along with a company's long-term solvency, investors should also look at its liquidity position. The current ratio, which is calculated as current assets divided by current liabilities, tells us a company's ability to pay its short-term obligations using its short-term assets. The higher the ratio, the better the company's position to pay its short-term liabilities. A lower ratio suggests a possible liquidity crunch. These ratios are important, especially when an industry is in a bad phase and companies can't generate sufficient free cash flow.
Article continues below advertisement
Improving liquidity ratios
Comparing liquidity ratios 
Along with a good solvency position, Ensco (ESV) and Rowan Companies (RDC) also have a very comfortable liquidity position with current ratios of 2.95 and 2.8, respectively. Ocean Rig doesn't have a strong leverage position but has a strong current ratio of 2.99.
Compared to last quarter, all companies' current ratios, except Seadrill's (SDRL), have increased. Seadrill is the only company with a current ratio less than 1.0. Its ratio is 0.85. A ratio less than 1.0 tells us the company's current assets are lower than the company's current liabilities. These companies may need to resort to their revolving credit facilities to fund their current liabilities.
A ratio of more than 1.0 tells us the company has a sound liquidity position.
Liquidity ratios don't consider capex (capital expenditure) requirements for these offshore drilling (IYE) companies. A company may have a high current ratio but still be able to face a liquidity crunch due to high capex for newbuilds.