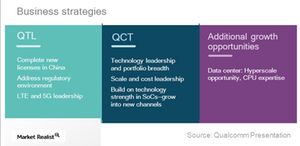 What Is Qualcomm's Strategy to Boost Revenue?
By Puja Tayal

Mar. 21 2016, Updated 11:04 a.m. ET
Qualcomm's growth strategy
In the previous part of the series, we saw that Qualcomm (QCOM) has assured investors of growth opportunities for chipsets, even if the smartphone market is slowing down. Let's see now how the company plans to tap these growth opportunities in the handset and non-handset business.
The company earns revenue from three segments:
QCT (Qualcomm CDMA [code division multiple access] Technologies)
QTL (Qualcomm Technology Licensing)
adjacent markets
Let's look at the growth strategy for each of these segments.
Article continues below advertisement
QCT
As we saw in the previous parts of this series, Qualcomm has launched its new 64-bit Snapdragon 820 chipset to enable Android phones to compete with Apple's (AAPL) 64-bit chip architecture in the iPhone 5S. The company is also preparing for 5G (fifth-generation) technology and has launched the x16 modem that will support the technology.
The company is looking to expand the "S" and shorten the "C" in SoC (system-on-chip). It's expanding the systems on which its SoC technology can be used across these seven industries: automotive, networking, mobile compute, smart homes, smart cities, wearable, and robotics and drones.
Meanwhile, it's reducing the size of the chip. It transferred the Snapdragon 820 manufacturing to Samsung's (SSNLF) 14nm (nanometer) node from Taiwan Semiconductor Manufacturing's (or TSMC) (TSM) 16nm node. The lower node will reduce cost per bit and improve performance.
QTL
QTL has been facing headwinds due to antitrust issues in China (MCHI), its major market. Qualcomm has so far signed agreements with 80 handset providers, including Xiaomi, Huawei, ZTE, Lenovo, and Haier, the top five Chinese handset makers.
The revised licensees are under the new terms agreed to with China's regulator. In that agreement, the royalty percentage has been lowered. This may have a negative impact on the company's revenue as more companies buy licenses. However, it will stand to benefit from the volume. We'll look at this in detail in the coming part of this series.
The company has also launched a compliance program to recover the lost licensing revenue due to underreporting of sales by many Chinese handset makers.
Qualcomm is playing a key role in deploying 4G (fourth-generation) in China and is simultaneously laying the groundwork for 5G, which is expected to come to its full potential by 2020. The company expects 5G to have a lifetime of ten to 15 years.
Additional growth opportunities
While expanding is SoC technology in the adjacent market, the company is looking to venture into the server chips and healthcare business. We'll look at this in the next part of the series.