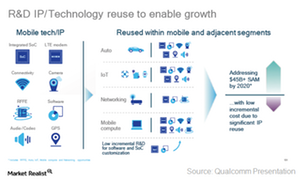 Qualcomm's Plan to Deploy SoC Technology in Adjacent Markets
By Puja Tayal

Updated
Qualcomm in adjacent markets
So far in this series, we've looked at Qualcomm's (QCOM) strategies to grow in the smartphone market. The company is looking to diversify its customer base and open up new streams of revenue.
With the advent of IoT (Internet of Things), wireless communications technology for phones is being used in other industries as well. Qualcomm is looking to deploy its technology in four areas:
automotive
mobile computing
networking
IoT
Let's look at what steps the company is taking to grow in this space.
Article continues below advertisement
New Snapdragon chips for adjacent markets
Qualcomm has introduced Snapdragon 425, 435, and 625, targeted at adjacent markets. The company has also introduced Snapdragon chips designed for specific segments.
Snapdragon Wear 2100 chip targets the wearables market such as smartwatches and activity trackers.
Snapdragon 820A module targets the automotive market.
Snapdragon 820 SoC (system on chip) targets mobile computing.
Snapdragon Flight targets drones.
These chips are based on ARM (Advanced RISC Machines) architecture, which is preferred over Intel (INTC) architecture in the mobile space due to ARM's low cost and power efficiency. There's a strong possibility that ARM architecture may be preferred in the IoT space.
Qualcomm is spending its R&D (research and development) budget on developing chip designs for adjacent markets. Since it's reusing its mobile SoC technology in other segments, growth would be faster.
Qualcomm's entry into computing
Qualcomm's Snapdragon 820 chipset has made its mark in the mobile compute space. Now it's set to enter the computing space as well. Hewlett-Packard's (HPQ) Elite x3 phablet, which runs on Microsoft (MSFT) Windows 10, would be able to perform the function of a laptop or desktop through Qualcomm's Snapdragon 820 processor. This indicates that the chip is powerful enough to run a laptop, PC (personal computer), or VR (virtual reality) device.
Qualcomm is also taking a shot at making its mark in the data center market currently dominated by Intel. We'll look at Qualcomm's growth strategy in the data center market in the next part of the series.
The PowerShares QQQ ETF (QQQ) has 7.9% holding in semiconductor stocks, including 1.5% in QCOM.