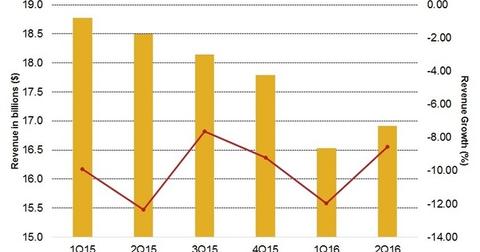 Procter & Gamble's Old Spice Deodorant: Too Spicy?
By Penny Morgan

Updated
Class-action lawsuit
On March 24, 2016, Virginia resident Rodney Colley filed a lawsuit against Procter & Gamble (PG), or P&G, for harm allegedly caused by its Old Spice deodorants. Colley alleges in a federal lawsuit that Procter & Gamble's Old Spice deodorant causes rashes, burning, and other discomforts.
The suit filed in the US district court for southern Ohio seeks more than $5 million in damages, restitution, and other penalties for P&G. The lawsuit is filed as a class-action suit. The suit claims 13 Old Spice products, including Arctic Force, Bearglove, Lion Pride, Swagger, Fresh High Endurance, and Fiji, have caused rashes and irritation to "hundreds, if not thousands," of consumers.
In addition to the online blog complaint, YouTube features a number of videos documenting armpit irritation, rashes, and burning caused by Old Spice deodorant, according to the lawsuit.
Article continues below advertisement
Not a chemical burn but a skin reaction
However, according to a P&G spokesperson Damon Jones, some consumers are experiencing skin reactions that can be caused by a range of factors or ingredients, such as alcohol or fragrances. P&G claims these are not chemical burns but skin reactions and states Old Spice products are safe to use.
2008 study
Like P&G, peers Colgate-Palmolive (CL), Unilever (UL), and Clorox (CLX) ensure their products are safe to use before they are introduced to the market. A 2008 study posted by the National Center for Biotechnology Information states that compounds in many antiperspirants and deodorants "have the potential to cause irritant and allergic reactions in many consumers."
There are several other complaints against Old Spice included in the lawsuit. These online complaints were posted in 2015 by people in North Carolina, Pennsylvania, Washington, Arizona, and Ohio.
However, Damon Jones claims that not all complaints posted online are exclusive to Old Spice.
In the next part of the series, we'll discuss P&G's stock price reaction. PG makes up 4.2% of the iShares Morningstar Large-Cap Value ETF (JKF), as of March 28, 2016.