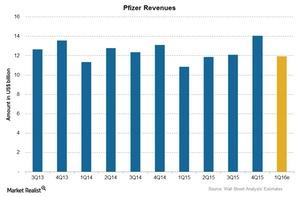 Why Pfizer Is Expected to Recover Growth in 1Q16
By Mike Benson

Apr. 6 2016, Updated 4:05 p.m. ET
Pfizer's revenue estimates
Analysts expect growth of ~9.8% in Pfizer's (PFE) 1Q16 revenues to $11.9 billion. This rise is expected due to a rise in the sale of the Prevnar family and its new drugs Xalkori and Xeljanz, among others, substantially offset by lower sales of blockbuster drugs such as Celebrex, Zyvox, and Lyrica.
Analysts estimate year-over-year growth of 7.4% for Pfizer in 2Q16. On an annual basis, this estimate reflects growth of 4.7% for Pfizer's 2016 revenue and further growth of 3.5% for its 2017 revenue.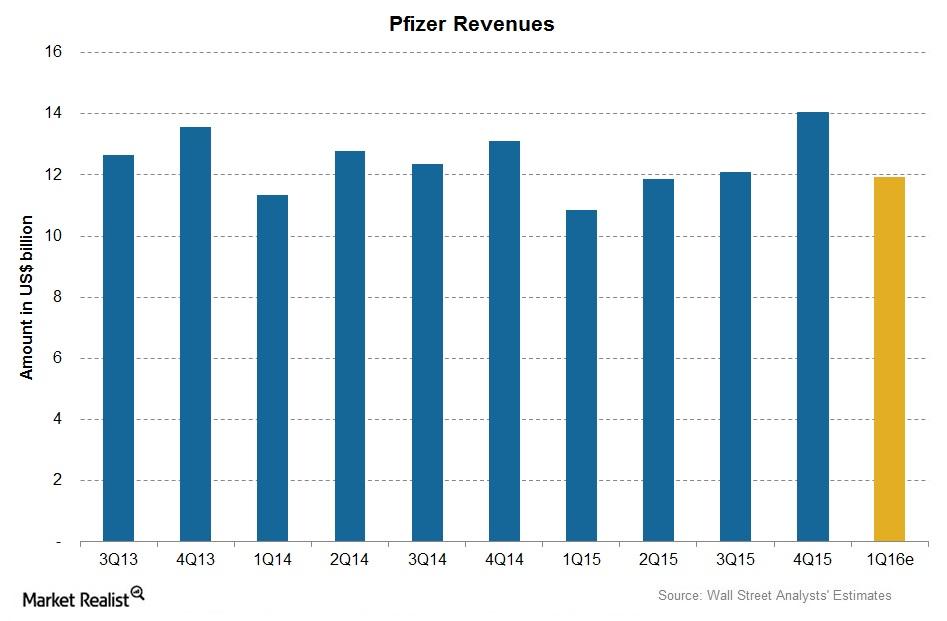 The above chart shows Pfizer's revenues since 1Q14 and analysts' consensus estimate for its revenue in 1Q16. Various factors affect this expectation. We'll discuss these later in the series.
Article continues below advertisement
Segment-by-segment expectations for 1Q16
Pfizer's business is divided into two businesses and three business segments:
Innovative Pharmaceutical

Global Innovative Pharmaceutical (or GIP) segment
Global Vaccines, Oncology, and Consumer Healthcare (or VOC) segment

Established Pharmaceutical

Global Established Pharmaceutical (or GEP) segment
The Innovative Pharmaceuticals business includes the two segments stated above. The GIP segment includes a few of Pfizer's blockbuster products, including Eliquis, Xeljanz, Lyrica, and Viagra, which contribute to the majority of the segment's revenues.
The Prevnar products family drives revenues for the VOC segment. Collectively, the Innovative Pharmaceutical business is growing based on its innovative products and its research and development for new products.
The Established Pharmaceuticals business is in a mature state. It includes products that have lost exclusivity and are exposed to generic competition. This segment includes key products such as Celebrex and Zyvox, which are losing their revenues to the generic competition and affecting the overall revenues for the GEP segment negatively.
Year-over-year revenues
Pfizer's revenues have fallen year-over-year since 2012 due to loss the of exclusivity of many key products in its portfolio. The company reported a 2% fall in its 2015 revenue, a 3.8% fall in its 2014 revenue, and a 5.6% fall in its 2013 revenue following patent expirations for key products such as Viagra, Celebrex, Zyvox, Lyrica, and Lipitor. Revenues were also affected by the expiration of the Enbrel and Spiriva collaboration.
Investors can consider investing in ETFs such as the VanEck Vectors Pharmaceutical ETF (PPH), which holds 5.6% of its total assets in Pfizer, 5.1% of its total assets in Novo Nordisk (NVO), 5.5% in GlaxoSmithKline (GSK), 6.7% in Novartis (NVS), and 4.9% in AbbVie (ABBV).
Investors can also consider the iShares Global Health Care ETF (IXJ), which holds 4.9% of its assets in Pfizer, in order to divest their risk.