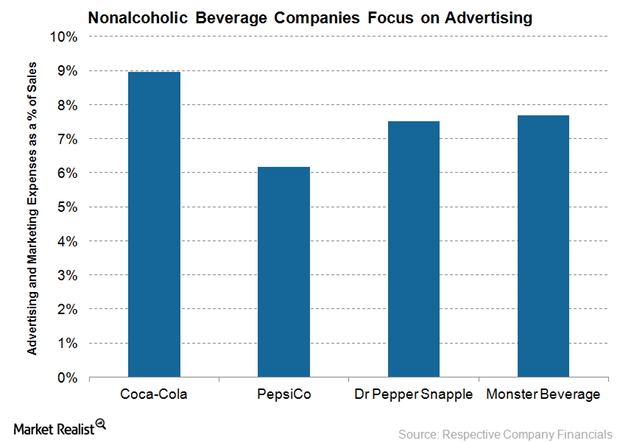 Nonalcoholic Beverage Companies Increase Their Marketing Efforts
By Sirisha Bhogaraju

Mar. 15 2016, Updated 9:13 p.m. ET
Focus on advertising
Nonalcoholic beverage companies continue to spend substantial amounts on the advertising of their products to revive the sales of soda beverages and also to boost the sales of nonsparkling beverages.
Peers PepsiCo (PEP), Dr Pepper Snapple (DPS), and Monster Beverage (MNST) spent 6.2%, 7.5%, and 7.7% of their sales, respectively, on advertising and marketing in 2015.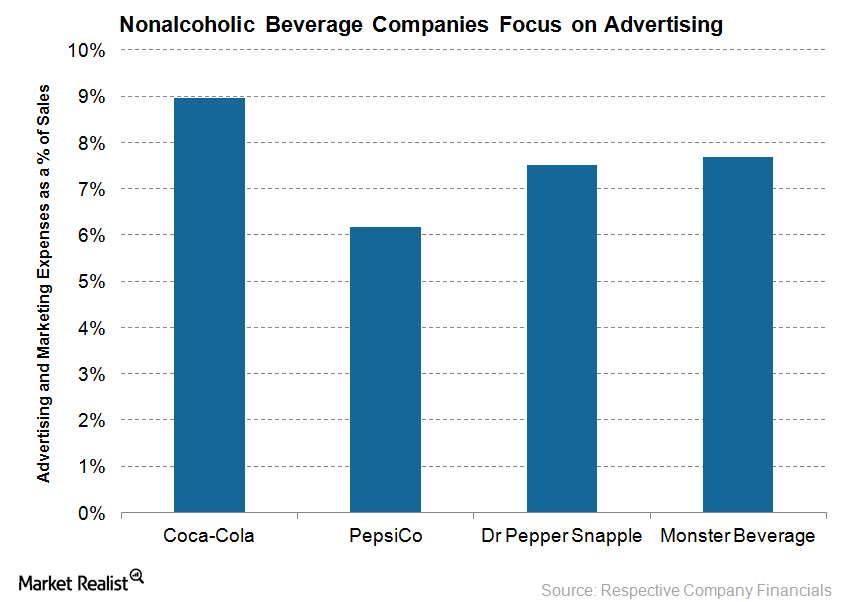 Article continues below advertisement
Recent campaigns
Nonalcoholic beverage companies continue to attract consumers by associating themselves with key sports events and popular sports stars. In February 2016, PepsiCo announced the list of football stars that would be part of its Blue Card Campaign. The campaign features international football superstars Sergio Agüero, James Rodríguez, Vincent Kompany, Alexis Sánchez, and David de Gea. PepsiCo constitutes 3.2% of the iShares Morningstar Large-Cap ETF (JKD) and 4.6% of the Consumer Staples Select Sector SPDR ETF (XLP).
Leading energy drinks maker Monster Beverage often targets millennial consumers by associating itself with adventure sports. The X Games, the Ultimate Fighting Championship, and drag racing are some of the events that the company has been associated with in recent times.
In January 2016, Coca-Cola (KO) announced a multiyear partnership with the world's top-ranked golfer, Jordan Spieth. In January 2016, Coca-Cola also announced its one-brand global marketing approach, under which the Coca-Cola, Diet Coca-Cola, Coca-Cola Zero, and Coca-Cola Life trademark brands will be united in one global creative campaign called Taste the Feeling.
These companies are also drawing consumer attention through packaging innovations. On March 10, 2016, Dr Pepper Snapple announced that it would commence its Pick Your Pepper campaign in June by releasing hundreds of unique label designs on 20-ounce bottles of Dr Pepper. The company has also partnered with the upcoming superhero movie Batman v Superman: Dawn of Justice to boost the sales of its flagship Dr Pepper brand.