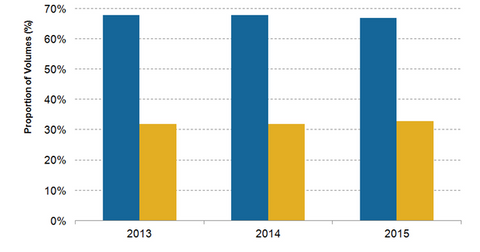 Why Nonalcoholic Beverage Companies Aim to Provide Better Choices
By Sirisha Bhogaraju

Updated
New products
In the previous part of this series, we discussed some of the healthier beverage innovations by nonalcoholic beverage companies. We'll discuss some more products in this article.
Coca-Cola (KO) entered the premium milk category through the launch of its Fairlife brand in the United States in late 2014. Fairlife doesn't contain lactose and contains 50% more protein, 30% more calcium, and 30% less sugar than regular milk. Coca-Cola also entered the Indian dairy market in January 2016 with Vio flavored milk.
Article continues below advertisement
As the graph above shows, still beverages accounted for 33% of Coca-Cola's US unit case volumes in 2015, up from 32% in 2014. Nonalcoholic beverage companies are now focusing on still beverage innovations. However, they're also working on making their soda beverages better by reducing sugar content.
Better options
Nonalcoholic beverage companies are also trying to attract consumers to the soda category by offering reduced-calorie beverage options. In North America, Coca-Cola offers over 200 low- or no-calorie options. In November 2014, Coca-Cola introduced Coca-Cola Life, a sparkling beverage sweetened with cane sugar and stevia leaf extract. Coca-Cola Life has 35% fewer calories than the leading colas. Coca-Cola makes up 5.2% of the iShares Global Consumer Staples ETF (KXI).
Article continues below advertisement
A focus on health and wellness is equally important for Dr Pepper Snapple (DPS), the third-largest soda maker in the United States. According to Dr Pepper Snapple, at least 50% of its innovation projects in the pipeline focus on reducing calories, offering smaller sizes, and improving nutrition. Leading energy drink maker Monster Beverage (MNST) is also innovating with low- or no-calorie versions of its energy drinks.
Beverage companies are also increasingly innovating products that use natural sweeteners like Stevia. Artificial sweeteners like aspartame have been a big reason for consumers' aversion to diet sodas. Some recently launched products that include stevia are Coca-Cola Life and Pepsi True. In August 2015, PepsiCo (PEP) launched its aspartame-free Diet Pepsi line in the United States. The company stated that the new product will replace aspartame in its Diet Pepsi with a blend of sucralose and acesulfame potassium.
Smaller portions
Coca-Cola, PepsiCo, and Dr Pepper Snapple are aggressively promoting smaller carbonated soft drink portions. They're marketing these smaller portions as better choices because of their reduced quantity and fewer calories. These smaller packages also benefit the companies since they have higher margins.