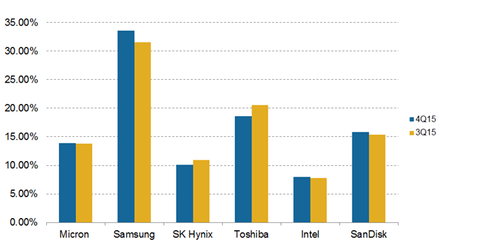 Nanya Technology: Memory Oversupply to Impact Prices
By Adam Rogers

Updated
Expect pricing uncertainty in first half of 2016
According to memory product manufacturer Nanya Technology, increased DRAM (dynamic random-access memory) capacity originating from advanced processing nodes from Micron Technology (MU), Korea's (EWY) Samsung (SSNLF), and SK Hynix (HXSCF) might result in pricing uncertainty in the market for the first half of calendar 2016.
Nanya Technology president Pei Ing Lee expects the pricing pressure in the DRAM market to extend to other memory markets including mobile devices, servers, and consumer market applications in 2Q16. However, Lee stated that the price instability will not be as it was in 1Q16.
Article continues below advertisement
DRAM market to be stronger in 2H16
Despite uncertainty over market conditions in the second half of 2016, Lee expects the demand for DRAM chips to be stronger than it was in 1H16. Lee also stated that the pricing of products will depend on the ability of major semiconductor companies in this market to ramp up. "A price drop of 20–30% is possible, but if new capacity is ramped up quickly prices have the potential to drop 25–40%," Lee stated.
Oversupply caused NAND chips to fall in 4Q15
According to DRAMeXchange, a division of TrendForce, the contract prices of NAND flash memory chips fell by 9% to 10% in 4Q15, driven by market oversupply. Weaker shipments of smartphones, tablets, and notebooks also resulted in prices of eMMC (embedded multimedia controller) and SSD (solid state drives) products to fall by 10%–11% in 4Q15. Revenues of the global NAND flash industry fell 2.3% quarter-over-quarter in 4Q15. "Besides facing rapidly falling prices, the manufacturers have also reached a bottleneck in their process technology migration," said Sean Yang, research director at DRAMeXchange.
Samsung's 4Q15 NAND flash revenues
According to DRAMeXchange, Samsung (SSNLF) continued to be a market leader in the NAND flash industry, with a share of 33.6% in 4Q15. Revenues for Samsung increased 4.2% quarter-over-quarter to $2.8 billion. Toshiba (TOSYY) took the second place with a share of 18.6%. However, its revenues fell 11.3% to $1.5 billion in 4Q15.
SanDisk's (SNDK) revenues rose marginally, by 0.1% quarter-over-quarter to $1.3 billion in 4Q15. It currently has a share of 15.8%. Revenues for peers Micron Technology, SK Hynix, and Intel (INTC) fell by 1.9%, 9.3%, and 0.2%, respectively, in 4Q15.