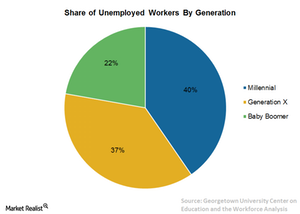 Why Millennials Might Face Tougher Times Yet Again
By Ann Hynek

Updated
More recently, though the employment situation of Gen Y, as millennials are also known, has greatly improved since 2010, there have been signs that tougher economic times may again be ahead. For instance, according to Rick Rieder, BlackRock's Chief Investment Officer of Global Fixed Income and regular Blog contributor, January jobs data suggested the most recent U.S. economic cycle may be cresting and turning downward, with slower payroll gains ahead.
Article continues below advertisement
Market Realist – Millennial employment may hit another speedbump
The US economy has been out of recession for seven years now. Despite a gradual recovery, the recession still affects millennials as face a harder time finding jobs than other workers. According to a study conducted by Georgetown University, 40% of millennials are unemployed compared to 22% of baby boomers. The unemployment rate for millennials is also higher, at 8.2% versus 4.9% of overall unemployment.
A look at the additional data further shows the gravity of the situation. Around 44% of college grads age 22 to 27 are trapped in low-skill and low-wage jobs—the highest rate in two decades. The number of young people earning less than $25,000 has also spiked to the highest level since the 1990s. Plus, only 36% of college grads are earning more than $45,000—the lowest rate since the 1990s. All these data indicate that the economic recovery hasn't helped millennials relative to the other workers.
Article continues below advertisement
The recent private sector jobs data further underline this issue. According to global outplacement firm Challenger, Gray & Christmas, layoffs rose rapidly in January, reaching the highest levels of the past seven months. US companies laid off 75,114 workers in January—up 42% year-over-year and double the December level.
The increased layoffs in January were mainly due to substantial downsizings in the retail and energy (IYE) (IXC) sectors. The retail sector, which employs a lot of millennials, underwent payroll reductions, reaching its seven-year high of 22,246. Walmart (WMT) plans to shut 269 stores, which will result in a reduction of 16,000 workers. Macy's (M) will also close some of its stores, leading to 4,820 job losses. The rise in online transactions negatively affected many retailers' offline volume, leading to substantial layoffs.
Similarly, the energy sector, which witnessed massive cost-cutting due to lower oil prices, slashed 20,246 jobs in January—the biggest monthly figure since mid-2014. Companies like Halliburton (HAL), Schlumberger (SLB), and Baker Hughes (BHI), which provide products and service to the upstream oil and gas industry, led the job losses in the energy sector.