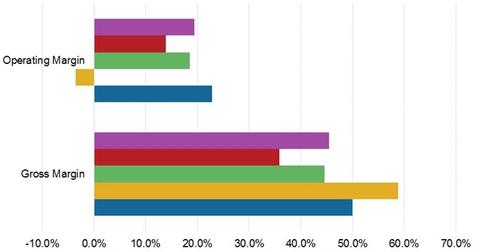 Why Margins Advanced for CPG Firms in 4Q15
By Penny Morgan

Updated
Improved margins
The 4Q15 margins of CPG (consumer packaged goods) companies sent strong signals to investors because companies have been investing heavily in innovative products and other growth initiatives, which have influenced these companies' margins.
Article continues below advertisement
Gross and operating margins for 4Q15
Procter & Gamble's (PG) gross margin increased by 170 basis points in reported terms, and 290 basis points on a currency-neutral basis to ~50%. This was driven by 170 basis points of productivity cost savings, 100 basis points from lower commodity costs, and a 130-basis-point benefit from pricing. Operating margins also increased to 22.8% in 4Q15 due to productivity savings.
Specifically, Clorox's (CLX) gross profit margin increased by 210 basis points to 44.6% in 4Q15, up from 42.5% in 4Q14. This rise was driven by benefits of favorable commodity costs, cost savings, and price increases. Operating margins also increased to 18.5% due to strong sales growth across segments.
For Colgate-Palmolive (CL), gross margins increased by 20 basis points to 58.8% thanks to the company's growth funding initiatives, its 2012 Restructuring Program, and higher pricing. CL's operating margin decreased to 3.6% due to the negative impact of foreign exchange, but on a non-GAAP (generally accepted accounting principles) basis, its operating income increased by 40 basis points to 26% in fiscal 4Q15 over fiscal 4Q14.
In 4Q15, Kimberly-Clark's (KMB) and Church & Dwight's (CHD) gross margins also increased to 35.8% and 45.5%, respectively, with KMB's operating margin coming in at 13.9%. This increase over 4Q14 was due to KMB's strong results across all segments and geographies.
Deprioritizing unprofitable businesses
P&G is focusing on deprioritizing unprofitable lines of business that negatively impact short-term growth but could improve local profit margins significantly. Colgate and Clorox continue to increase investments and prices in moderation in emerging markets in order to counter foreign exchange headwinds and protect margins.
Procter & Gamble, Colgate-Palmolive, and Kimberly-Clark together made up 3.7% of the iShares Global 100 ETF (IOO) as of March 17, 2016.
Now let's analyze the stock movements of CPG companies in 4Q15.