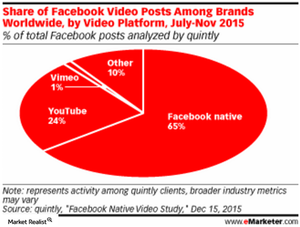 Why Many Businesses Prefer Facebook for Video Advertisements
By Parker Thomas

Updated
Users spend 100 million hours daily
Online video has become a significant element of Facebook that continue to attract online users. Video has become an integral part of Facebook's (FB) experience, and the company continues to invest in building new features such as live video streaming and caption-enabled videos.
According to Facebook, users spend 100 million hours daily watching videos on Facebook. The company is in its testing phase to bring "suggested videos" similar to Google's (GOOG) YouTube, which provides users with an array of videos according to their interests. In fact, the company is planning to provide dedicated space for videos on Facebook to segregate Facebook activities and online video.
Article continues below advertisement
According to eMarketer, between July and November 2015, "65% of brand video posts to Facebook were Facebook Native," whereas "24% of video posts to the social network were linked to YouTube." Moreover, Amazon's (AMZN) Twitch and Vevo constitute 10% of total video posts links to Facebook. According to a study conducted by Locowise, among all the videos posted on Facebook, 96.4% were Facebook Native.
Diversified user base
Over the past few years, online videos have become an important media for brand promotion. In fact, many brands prefer Facebook for posting videos because its user base is both geographically and demographically diverse compared to other social media platforms such as Twitter (TWTR) and Google+ (GOOG). According to the company, around 500 million people watch videos daily on Facebook. As a result, it generates opportunities for advertisers to post tailored videos for brand promotion.
In fact, during last year's holiday season, Microsoft (MSFT) posted customized videos on Facebook to promote its newly launched Halo 5. According to Facebook, these videos helped Microsoft drive "over 380 million impressions and 49 million video views in key markets and increased purchases by 10 points in the U.S."
Facebook (FB) constitutes 4.3% of the PowerShares QQQ ETF (QQQ).