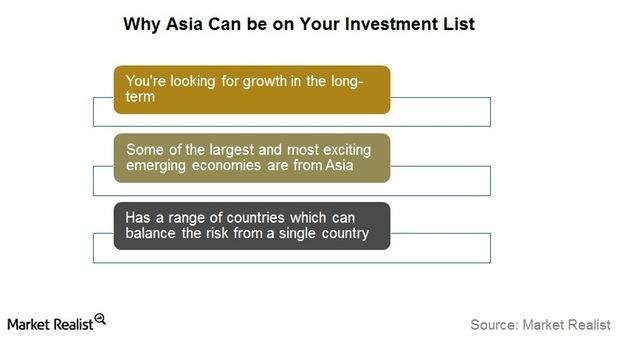 Why Should You Look at Asia for Growth in the Long Term?
By David Ashworth

Mar. 7 2016, Published 4:54 p.m. ET
Why Asia?
When we talk about the geographical diversification of investments, Europe comes to mind first. Better familiarity with European companies and extensive coverage of the region's economy and financial markets make it the geography of choice. Beyond Europe, things are a bit hazy. This is where Asia comes in.
Asia comprises developed economies such as Japan, Hong Kong, South Korea, and Singapore, along with major emerging economies such as India, China, and Malaysia, among others. Given the diversity the region can provide by its sheer composition, Asia makes a compelling investment destination, especially for those investors who are looking for growth.
Article continues below advertisement
Investing in Asia without Japan?
We're not advocating leaving Japan out of your investment list. Previously, we wrote about mutual funds that could help you invest in the entire Asia-Pacific region. Japan was among the best-performing markets of 2015. However, it may be that you're not positive about Japan's prospects in the long run because you think that stimulus measures alone cannot keep moving stock prices upward.
On the other hand, it could also be that you're quite positive about Japan's prospects and have chosen to invest exclusively in that geography via mutual funds such as the Matthews Japan Fund Investor Class (MJFOX) among others.
Whether you want to avoid exposure to Japan or don't want to add further exposure, there are mutual funds that can help you invest in Asia without providing exposure to Japanese equities (MEASX). We'll be looking at these funds in this series.
Why the long term?
Investing in emerging and frontier markets is not for all investors. However, for those who are patient and can wait for the appreciation of their capital, Asia ex-Japan mutual funds provide exposure to economies that have the potential to shoulder the responsibility of global growth in the coming decade.
China is not doing well right now, both economy-wise and market-wise (JD) (VIPS) (NTES), and its prospects seem shaky in the near to medium term. However, given the nation's demographics and the government's desire to implement structural reforms in order to make the economy grow from within, it's possible that China will make a strong comeback. Adventurous investors may want to be part of that growth story.
Let's begin our analysis by looking at the Aberdeen Asia-Pacific (ex-Japan) Equity Fund Class A (APJAX) in the next article.