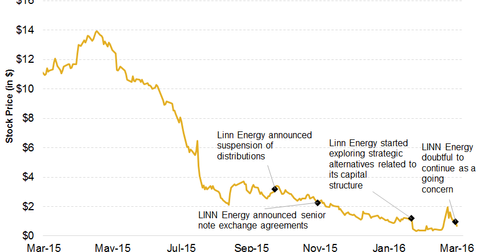 Linn Energy One Step Away from Chapter 11 Bankruptcy Filing
By Kurt Gallon

Mar. 16 2016, Published 6:53 p.m. ET
Background
Linn Energy (LINE) is among several upstream producers plagued by the extended low commodity price environment and high leverage. LINE has a huge outstanding debt of ~$10 billion sitting on its balance sheet.
Linn Energy, which is structured as an MLP, used its internally generated cash flows for distribution payments. It raised money from external markets for funding acquisitions and growth capex, resulting in huge leverage. The partnership decided to suspend its distribution in October 2015 to stay afloat.
Article continues below advertisement
However, the situation didn't improve and worsened with time. Now, the partnership is finding it difficult to service its interest payments corresponding to the huge outstanding debt. LINE's peers, including Breitburn Energy Partners (BBEP), Vanguard Natural Resources (VNR), and Memorial Production Partners (MEMP) are facing a similar or slightly better condition. We'll analyze their leverage situation in the next article. VNR forms 2.67% of the First Trust ISE-Revere Natural Gas Index ETF (FCG).
Linn Energy moving toward bankruptcy
Industry participants started speculating about Linn Energy's bankruptcy when the partnership announced its plans to explore strategic alternatives to recover its balance sheet in a February 2, 2016, press release.
According to the 4Q15 earnings release, LINE might not be able to continue as a going concern. The partnership has a 30-day grace period to make its $60 million interest payments, which were due on March 15, 2016. If Linn Energy fails to do so, bankruptcy seems inevitable.
Linn Energy's 4Q15 results and 2016 guidance
Linn Energy reported a loss of $2.5 billion, or $7.05 per unit, in 4Q15 compared to a net loss of $155 million, or $0.47 per unit, in 4Q14. The partnership's 2015 production decreased to 1,134 MMcfepd (million cubic feet equivalent per day) from 1,358 MMcfepd in 2014, a year-over-year decline of 16%.
The partnership expects its 2016 production to lie between 980 MMcfepd to 1,070 MMcfepd. This is 14% less than the 2015 full year production, driven by declines in capital expenditures and well shut-ins. Linn expects to spend $340 million in 2016, which is 44% less than the 2015 capital budget. Plus, Linn expects to shut-in 1,000 wells in 2016.