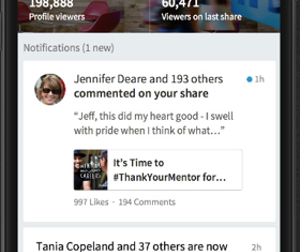 How LinkedIn's Revamped Project Voyager Performed after Its Launch
By Parker Thomas

Updated
Multi-app strategy
In December 2015, LinkedIn (LNKD) entered the era of mobile communications with its revamped Project Voyager app, which was designed to streamline the user experience and user interface. Over the last few months, the company rolled out standalone apps such as Lookup, Groups, and Elevate, which can connect co-workers, manage and interact with group members, and distribute content externally.
LinkedIn is gradually incorporating its multi-app strategy that is utilized by tech giants Facebook (FB) and Google (GOOG). LinkedIn has entered the wearable device market with its Pulse app for the Apple Watch (AAPL).
Article continues below advertisement
The Project Voyager app has five navigation tabs, out of which Messaging and My Network have a core value for the company. The Messaging app allows users to exchange private messages, which is an alternative to InMail, LindkedIn's traditional messaging tool. Similarly, My Network has a built-in feature to notify the members about network updates and suggested users.
Why did Project Voyager initially stumble?
In 2014, when the Project Voyager app was rolled out, LinkedIn replicated some of its most-used desktop features to its app. The company later developed more intuitive and useful features for Voyager, which resulted in more than 57% of LinkedIn's traffic coming from mobile devices.
During the recent quarter, the company mentioned that in January, it has seen a significant increase across several metrics such as feed engagement, searches, and messages sent. "The result is the fastest year-over-year growth we've seen in five months," noted Jeffery Weiner, CEO of LinkedIn.
As part of its goal to improve its member experience, LinkedIn has reduced the number of emails sent per user by 40%. According to the company, "The early accelerated traffic trends are particularly noteworthy, given our 2015 emphasis on quality versus quantity of email sent by LinkedIn to members." In January 2016, the company doubled the number of jobs to more than 6 million open listings versus last year's figures.
LinkedIn constitutes 2.1% of the First Trust Dow Jones Internet ETF (FDN).