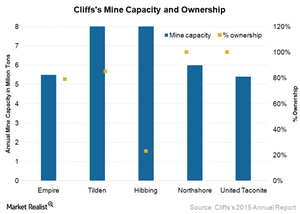 What Led Cliffs to Restart Production at Its Northshore Mine?
By Anuradha Garg

Updated
Restarting Northshore mine
On March 14, 2016, Cliffs Natural Resources (CLF) announced that it will be restarting its previously idled Northshore mine in Minnesota by May 15, 2016. The company had idled the mine in December 2015 due to lower demand from customers. It still has one mine, United Taconite, in an idled state.
According to Cliffs' CEO, Laurenco Goncalves, "The avalanche of unfairly traded steel hitting the U.S. since last year negatively affected our clients' production levels and, as a consequence, affected us. At this time, with the trade cases approaching their final stages and preliminary duties being announced, the volume of unfairly traded steel is starting to subside. As our clients' order books improve and their need for pellets approach more normal levels, we are pleased to announce that we are bringing back to work our dedicated employees at Northshore."
Article continues below advertisement
Stock reacts positively
This announcement was met with a strong positive share price reaction. Cliffs' share price gained 15% on March 14, 2015. This is a positive sign for the US steel industry, as Cliffs now expects higher customer demand. This will also push the domestic steel prices up, which should support Cliffs' profitability, as steel prices are one of the factors in its contracts. However, the company did not upgrade its production guidance of 16 million tons per year for 2016 even after the restart of the idled facility. This could mean that its guidance had already taken the production from Northshore facility into account.
These developments have encouraged US (QQQ) steel mills including AK Steel (AKS) and Nucor (NUE) to raise the base selling prices for some of their products. Nucor has a dividend yield of 3.5% and forms 2.3% of the ProShares S&P Dividend Aristocrats ETF (NOBL).
While Cliffs has brought its idled mine back into operation, its future production will depend on a contract that is coming due later this year. We'll discuss this in more detail in the next part of our series.