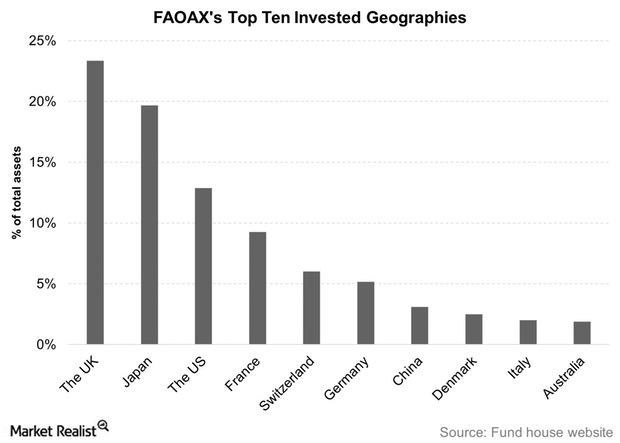 What You Should Know about the Fidelity Advisor Overseas Fund
By David Ashworth

Mar. 10 2016, Published 11:32 a.m. ET
Fidelity Advisor Overseas Fund
The Fidelity Advisor Overseas Fund invests at least 80% of its net assets in common stocks of non-US issuers. Graeme Rockett manages the fund.
The fund manager uses a combination of bottom-up and top-down research by applying fundamental analysis on each issuer's financial condition and industry position, as well as market and economic conditions while constructing the portfolio.
Article continues below advertisement
Portfolio composition
According to information provided by the fund house, consumer discretionary was the single largest sectoral holding of the fund and formed 26.1% of the portfolio as of January 2016. Information technology and financials, in that order, were second and third, and formed a combined 30.7% of the portfolio. Compared to the MSCI EAFE Index, the fund was overweight in the consumer discretionary, information technology, and healthcare sectors while being underweight in the financials, consumer staples, and industrials sectors, among others. The fund was not invested in the utilities sector.
Stocks from the UK formed 23.3% of the fund's assets for January, making the UK the geography with the highest weight. Japan followed, forming 19.7% of the portfolio. The US, France, and Switzerland, in that order, rounded off the top five countries with the highest weights. Compared to the aforementioned index, the fund was overweight on stocks from the UK and Denmark while being underweight in most other geographies. The fund had a substantial 12.9% of its assets invested in US stocks.
Astellas Pharma (ALPMY), Vodafone Group (VOD), ORIX (IX), SABMiller (SBMRY), and Shire (SHPG) were among the fund's 209 holdings as of the end of January. As of February 2016, the fund was managing assets worth $625.8 million.
Fees and minimums
The Fidelity Advisor Overseas Fund – Class A (FAOAX) was incepted in September 1996 and has an expense ratio of 1.4%. There is a minimum of $2,500 to invest in this fund via Class A shares. The fund can charge a maximum sales charge of 5.8% of the offering price on the purchase of Class A shares. Further, it levies a short-term trading fee of 1% of the amount redeemed if the shares are liquidated within 30 days of purchase.