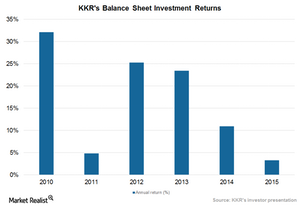 What KKR's Buyback Program Could Mean for the Future
By Robert Karr

Dec. 4 2020, Updated 10:53 a.m. ET
Repurchases and fixed dividends
KKR & Company (KKR) announced a $500 million share buyback program in 4Q15, buying back $270 million units and the remainder during the March quarter. KKR's management believes the stock represents compelling values for investment at these prices.
The company also paid a fixed dividend of $0.16 per common share in the fourth quarter. This dividend is aimed at retaining more cash on the company's balance sheet from a long run perspective by declaring a fixed dividend, which translates into an annualized yield of 3.5%–4%. KKR previously distributed 75%–80% of its earnings with an annualized yield of approximately 8%.
KKR has a history of investing more of its own cash across investments to generate higher returns. The strategy could be further supported if the company has more capital to deploy. Alternative managers have been in buyback mode since the falls in their valuations during the early 2016 market rout.
KKR's peers have posted the following returns on equity:
Together, these companies form 4.1% of the PowerShares Global Listed Private Equity ETF (PSP).
Article continues below advertisement
Higher returns on retention
KKR has generated a CAGR (compound annual growth rate) of 13% on its book value per share over the past six years. If we consider its fixed distribution policy of $0.64 per unit per year and its 17.2% annual balance sheet investment return since 2010, the company could have grown its book value per share at a CAGR of 18%.
KKR's employees and senior management hold approximately 45% of the company's units. The company believes that it can better manage money for its employees and other unitholders. With a balance sheet size of $14 billion, its annualized distribution yield stands at 3.6%.
KKR perceives its units to be undervalued. It will thus continue with its buyback program and could increase the allocation from the existing total of $500 million.
In the next and final part, we'll analyze KKR's valuation and driving factors.